From the 2015 Texas Poetry Calendar
December 2015
November 2015
October 2015
September 2015
August 2015
July 2015
June 2015
May 2015
April 2015
March 2015
February 2015
January 2015
The Weather in Texas
If you must talk about the weather, someone said to me,
Please — no rain resembling tears,
no sun as a fiery orb,
no silken breezes either.
Try mentioning that night
the wind captured the moon,
plunged her into the pond.
Comment on the high wild grasses
bowing in all directions,
delighting a certain silver captive.
Call the air enormous,
puffed up by what its breath contrived.
If rain arrived, name it sanctified,
made holy by communion with a temporary goddess.
Report that the sun rose early, spied the fettered moon,
swaggered on toward its next doom.
And as he changed the subject, I thought —
that's what I was going to do anyway.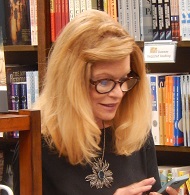 Stephanie Madan read with us September 20, 2014, at the Blue Willow Bookshop in Houston. After slogging through loveless relationships with information systems, real estate development, and law, she has found her bliss slowly and now writes a column called "Just Desserts" for My Table, a food-themed print magazine.
Back to Top




in the pocket of her apron
pale bluebonnet sky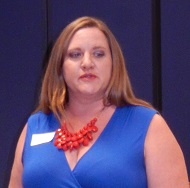 Traci Siler read with us October 4, 2014, at the Georgetown Poetry Festival. She discovered short form poetry only a few years ago but has already been published in The Bamboo Hut, Moonbathing, Prune Juice, Bright Stars: An Organic Tanka Anthology, and various online poetry blogs.
At the Cracker Barrel Restaurant, Abilene, Texas, November 11, 2013
Across from a crackling fire
on a table dressed in white linen
a lit candle flares
beside a single rose in a yellow-beribboned vase
and a small plate with lemon slice, salt.
At the table's four corners
crisp military caps, one each for
Soldier, Sailor, Airman, Marine.
At this eleventh hour of
the eleventh day of the eleventh month
the table's glassware is inverted,
chairs tipped forward —
a table reserved for those not yet returned home.
The sounds of a busy restaurant recede
behind a whispered
"Remember . . ."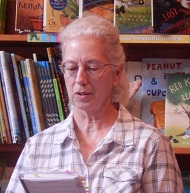 Janice Rebecca Campbell read with us October 11, 2014, at the Twig Book Shop in San Antonio. A poet, photographer, and book designer, she is the author of three books of poetry: pink merrymaking allowed in the midst of green geometry; Ah: 31 Days, 31 Poems (inspired by an exercise in Wingbeats); and A Disturbance in the Field.
The Vanishing Point
Dallas Love Field, 22 November 1963, 2:45 p.m.
The jet lifts so slowly it could be a memory,
made silver in the sun, that skims the surface
of Bachman's Lake and takes time
folding its reedy legs into itself, extending
its white shawl of wings when it feels a wind
to hold it aloft or
could be a dream: it passes like one before us,
moves beyond cambered cirrus
toward a vanishing point and wonder
why some god or chance left us to watch it
lumber so heavily, its great seal a plaster
on its side. We already
perceive what we've lost, don't we,
trapped inside this eye of improbability?
It turns to revolution, to a thing unimagined
and we are at the wellhead to raise
its sealing stone, but find nothing there,
try to make meaning of it
when all there is to make sense with
are egrets rising from cattails and salt grass
while space around us fills with wind
invisible and whole, a thrust of air
bolsters us when we hold inside
much too much.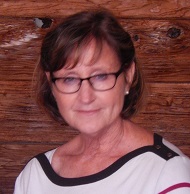 Rebecca A. Spears read with us December 6, 2014, at Malvern Books in Austin. Author of The Bright Obvious (Finishing Line), she has received scholarships from the Taos Writers Workshop, Vermont Studio Center, and The Writers Colony at Dairy Hollow.
Pear Confusion
The first cold snap
blew crimson blush
into the Bradford Pear.
Within a week the rest
turned Longhorn orange,
yellow of the Mountaineers,
Aggie maroon. Who knew
that trees too
had a hard time rooting
for one football team?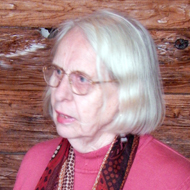 Christa Pandey read with us December 6, 2014, at Malvern Books in Austin. Author of the poetry collections Southern Seasons, Maya, and Hummingbird Wings, Christa has published in Naugatuck River Review, The Taj Mahal Review, Still Crazy, and Blue Hole.
Port Aransas Prayer
Sand, scrub away my weariness
Wind, weather these worries
Sea breeze, save me
Lonely streetlights,
Shine quietly
Like hope
Pier lights,
Like fishing lines,
Hook me
Reel me in,
Please,
Because I'm drowning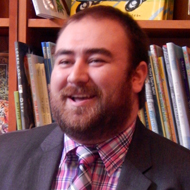 David Hale read with us October 11, 2014, at the Twig Book Shop in San Antonio. He has work forthcoming in Outrage: A Protest Anthology for Injustice in a Post-9/11 World.
One Month Following Her Stroke: Back Home Again in Texas
Everywhere the drought:
strips of bare ground cracking.
Resonant the one recent rain:
green still traceable in tufts of collapsed grass.
Wondrous your small word as
your mind slowly remembers, speaks.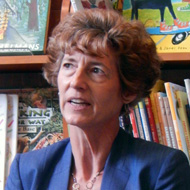 Cyra S. Dumitru read with us October 11, 2014, at the Twig Book Shop in San Antonio. With three published volumes of poetry, Cyra teaches at St. Mary's University. She is in the final phase of training to be certified as a Poetic Medicine Practitioner.
Dawson, Texas, 1958
The sweaty salty smell of birth pressed against the walls
of the small house in Dawson, Texas.
It was September but an exhausted summer kept kicking out heat.
The sky above the Piney Woods murmured with a mouthful of stars
and yawned exposing a long black tongue of darkness.
A child wailed her way into the world, testing her voice in light and air,
arms and legs flailing, reaching as though night was her father.
Did the stars in their ancient wisdom know
that in fifty-five years she would be exiled
to a leather chair with the red devil
dripping in her veins? That the devil would return her
body to baldness even as it was at birth?
With her eyes closed in prayer, she receives the wind's covenant.
She listens to the holiness of its fanfare
trumpeting in the castle of her skin.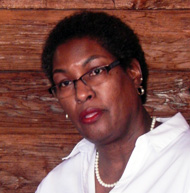 Loretta Diane Walker read with us December 6, 2014, at Malvern Books in Austin. A multiple Pushcart nominee, Loretta won the 2011 Bluelight Press Book Award with Word Ghetto. Recent publication credits include Her Texas, Red River Review, and Sugared Water.
Whittled by wind, shaped by water
One day, you might find
yourself in a canyon,
the Rio Grande so low
you could wade across
to caress Mexico.
In the photos nobody would know
which side was which, unless
they'd stood there, too.
The canyon is just a halved heart,
and you might decide
to touch both sections, or you might
not want to risk the laws waiting,
hiding at the borders.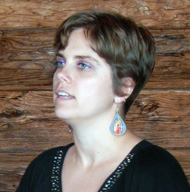 Allyson Whipple read with us December 6, 2014, at Malvern Books in Austin. Author of the chapbook We're Smaller Than We Think We Are (Finishing Line Press), Allyson is pursuing an MFA at the University of Texas at El Paso.
Mi boca es un desierto . . .
searing and barren.
I cannot find the words
that dwell in the wellspring,
pump fluid to my lips.
Necesito tu mapa de venas azules,
fingertip to fingertip to the source.
Lost in the wilderness
with no landmarks
in sight.
No puedo decirte
como hallarme.
I'm afraid
I will bleach
to bone.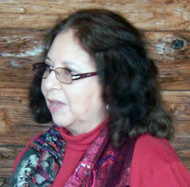 Gloria Amescua read with us December 6, 2014, at Malvern Books in Austin. A CantoMundo Fellow and Hedgebrook alumna, Gloria won first place in both the Austin International Poetry Festival 2013 and the Austin Poetry Society Awards.
A Pomegranate Story
Tell me again how you carried
the shriveled garnet stone
snugged in a jewelry box
and sowed it later in your garden,
how you waited three long years
for the scarlet blossoms
to flicker their whispery flames
in the sweet Gulf breeze.
And tell me again how your palm
embraced the royal crimson orb,
how your tongue indulged in
the velvety, cool rupture of each seed,
as if you were reading a poem
word by word, word by word . . .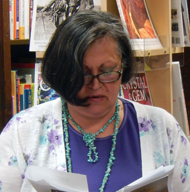 Elena Lelia Radulescu read with us September 20, 2014, at the Blue Willow Bookshop in Houston. Elena is working on a collection of short stories. Her poems have appeared in Square Lake Review, Chelsea, Karamu, The Cape Rock, Spoon River Poetry Review, The Romanian Review, and Magnolia Journal.
Adrift, the body senselessly resists
Nothing is as it was. The day fully
occupied but scarcely registered.
The alarm of a red fox
from field to fallow field. The flight of rock doves
into the oaks' open arms. Clouds hurtle
across steel skies. To slow is to fall.
The open hymnal, open grave, open
uninscribable surface of water.
Rock and root slowly draw rain up through
grassblade and branch, leaf and rough light.
An uncle steps forward and, wordlessly,
tucks a daisy under, into the dirt.
Judy Jensen read with us December 6, 2014, at Malvern Books in Austin. Co-founder of Float Press and a long-time Poetry at Round Top volunteer, Judy coordinates the KinCity Reading Series with Mariana Aitches; the series brings poets along the I-35 corridor together. Dos Gatos Press nominated the poem featured here for a Pushcart Prize.
Emeritus
His office, always cluttered, finally is bare.
Fifty years of teaching law
packed in boxes, hauled away.
They say they need the space
for someone younger.
Only dusty blinds remain. He grips his cane,
pulls the cord, leans toward waning light
to savor — no, to memorize — the view.
A final look at campus framed by
windows he can claim.
The parking lots, the massive shrine to football
start to fade. He sees again a grassy field
where baseball once was played,
noble trees and sloping lawns
where students used to gather.
The sunlight shifts, illuminates his fingerprints
clumped together on the glass where
every night he'd reach to close the blinds.
With shaky hand, he stretches up,
leaves one more set of fingerprints behind.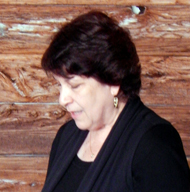 Amy L. Greenspan read with us December 6, 2014, at Malvern Books in Austin. Author of several employment law books, Amy has recent poems in di-verse-city, the Story Circle Network's True Words Anthology, The Ghazal Page, and in multiple editions of the Story Circle Journal.
Back to Top




in the tinaja
a white line where water dried
sweat salt on the lips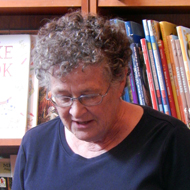 Sarah Webb read with us October 11, 2014, at the Twig Book Shop in San Antonio. Former poetry editor for the journal Crosstimbers, Sarah currently co-edits the online Zen arts magazine Just This. Her poetry collection Black was published by Virtual Artists Collective in 2013.
May
Young sparrows spill from streetlight poles
to conquer avenue trees,
and seagulls circle mallard shoals,
slow-rolling in the breeze.
The dandelions have lost their heads.
The dogs trade Lancelot smiles.
The clover's holding special sales,
and bees jam all the aisles.
September seemed too tired to talk.
October mourned all day.
December warned us not to laugh.
At last, my love, we May.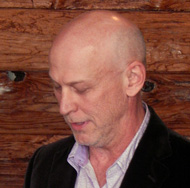 Bruce McCandless read with us December 6, 2014, at Malvern Books in Austin. He has recent poetry in The Seattle Review, Pleiades, Natural Bridge, and The Texas Observer.
Hush
the Texas sky speaks tonight
in star-studded dialect
ancient as ears,
bright as unflawed dreams
a message that translates
into the brushy rush of waves
on gulf coast beaches
and breathes deeply, warmly
into the hill country's cleavage
of forgotten seas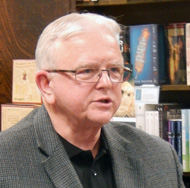 Terry Jude Miller read with us September 20, 2014, at the Blue Willow Bookshop in Houston. Terry is recipient of the 2013 Sandia Writers Prize, the Betty Blackmore Memorial Award, the Harry Kallander Memorial Award, and the 2012 Mildred Vorpahl Baass & Nancy Baass Poetry Award.
Whippoorwill
The drone of traffic drowns her call.
Wood and mortar usurp her ground nest.
Like her, we move farther west.
Afraid I'll lose her even now,
I wait.
But long about April after a Hill Country sunset
comes that plaintive cry and answer —
whippoorwill.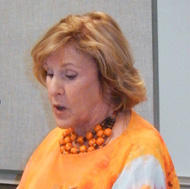 Mary Bryan Stafford read with us October 4, 2014, at the Georgetown Poetry Festival. A quarter-finalist in the Amazon Breakthrough Novel Awards for A Wasp in the Fig Tree (2014), Mary has work in in The Greatest Generation III, and Women Write about the Southwest, winner of the Willa Award.
Searching for Bluebonnets
Patches of trampled blue emerge from crests of barbwire hills
along the tar-webbed road to Weimar.
Stopping at a roadside gravy pit,
golden meat and dripping onions
smothered with speckled white cream,
"Where are the bluebonnets this year," I ask
the droop-haired blonde waitress
dropping a Melamine bowl of greenery on the table
next to a smudged table knife and stained napkin.
She shrugs as if ignorant of her locale,
piling on her arms plates of half-eaten potatoes,
excess chives and bacon spilling as she walks
toward the steamy door to the kitchen.
We trek on past lines of shiny vans resting on asphalt shoulders
like a caravan of travelers stopping at an oasis of blotchy blue and green,
cameras clicking at posed children sitting on the inclines like hunters
displaying their prey,
the outlines of the hunt
sprinkled on bed after bed.
On a whim of futility we turn down narrow lanes
of half-painted houses with torn screens occupied by rust farmers,
their corrals filled with brown motorless cars
grazing on the dirt
until we happen upon a lake
and stop to take a look at a faded, creased map
crumpled in the glove box,
realizing only after an argument of direction
and accusations of misnavigation
that there is no water near us —
only the flowing of tiny blue heads
dancing indifferently in the wind.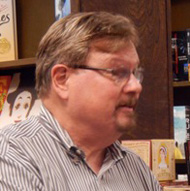 David E. Cowen read with us September 20, 2014, at the Blue Willow Bookshop in Houston. President and lifetime member of the Gulf Coast Poets, David has recent poetry in Dark Matter (UH–Downtown), Harbinger Asylum, Isotropic Fiction Magazine, and Death Rattle Webzine.
Driftwood
So many ways the day
passes like water holding sand
The fragmented grain of seashells
from Galveston shore
And this driftwood
I am
New daily with sun, salt,
moss
barnacles
Time bathes me into texture
people photograph my striations
I am put on a shelf
made into a chair
If you touch me
I am your history.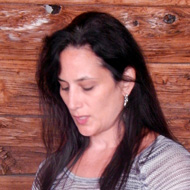 Vanessa Zimmer-Powell read with us December 6, 2014, at Malvern Books in Austin. Winner of the Rick Steves Haiku Award, Vanessa has had her haiku read on Rick Steves' PBS radio show. She has been published in di-verse-city, The Houston Poetry Festival Anthology, The Avocet, and Harbinger Asylum.
Sandhill Cranes at Salado Creek
Along the creek's curl
during a trail run,
light rain falls.
Snails drag
the wet gravity
of shells;
birds preen mud
into feathers to blend
with brown grasses.
A millipede
of heartbeats,
we run a shared cord
of breath.
Then! ears shake
with tumbled ecstasy,
O bugle and accordion!
Wave and wave and
wave of shimmering
V-lines.
Over us,
strings of prayer flags,
parents sing children
across the sky.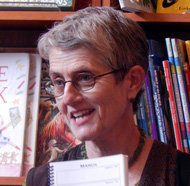 Mobi Warren read with us October 11, 2014, at the Twig Book Shop in San Antonio. Mobi is a translator, from Vietnamese, of books by Buddhist monk Thich Nhat Hanh, including The Dragon Prince. She has for several years led Haiku Hikes at Government Canyon State Natural Area and workshops for the literary arts organization Gemini Ink.
I Always Dream of You in Waco
Maybe it's the distance between here and there
or those animated Baylor Bears waving on street banners
or the Dublin Dr. Pepper sizzling on my tongue
the movement of the Brazos River under the lighted bridge
the natural fit of faded jeans
all those heads topped with cowboy hats
what's best about Texas within that small stretch off I-35
I always dream of you in Waco
where my head rests on a hotel pillow
where I dream like we've both been here together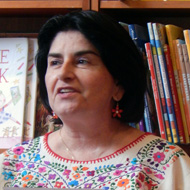 Diane Gonzales Bertrand read with us October 11, 2014, at the Twig Book Shop in San Antonio. Diane teaches creative writing and composition at St. Mary's University where she is Writer-in-Residence. She published her first poetry book, Dawn Flower, in 2013.
Last Rodeo
He's got that cowboy look —
rocking back on his boot heels
lean as a string bean
in blue denim jeans
cinched tight by a silver-buckle belt
long-sleeved shirt with pearl snaps
topped by a beige Stetson.
He looks ready to climb
into the saddle on a bronc
or like he just dismounted.
He looks ready for the dance —
the panhandler ambling
the median on Anderson Lane
hoping to lasso some bucks.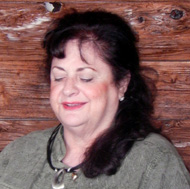 Claire Vogel Camargo read with us December 6, 2014, at Malvern Books in Austin. On the Board of the Austin Poetry Society, Claire has poems in The Enigmatist, Blue Hole, and America Remembered; she recently authored the chapbook, Iris Opening.
The Water Tank
I hear the horses banging
the galvanized water tank.
They drum me into my clothes,
layers of flannel, wool, red toe socks,
and black galoshes.
The horses jostle for position
around the water tank,
its frozen water blue with cold.
Impatient, they whip their tails
swatting at the cold as if it
were one immense fly.
The horses' breath
warms my face.
I strike the ice until it cracks.
My bare hands reach under the icy blocks,
lifting them out until there is only water.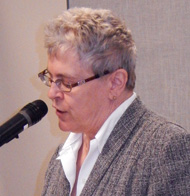 Dora Robinson read with us October 4, 2014, at the Georgetown Poetry Festival. Former co-host of KOOP Radio's Writing on the Air, Dora has poems included in the Rio Review and Stymie: The Journal of Sports and Literature, as well as on display on Austin buses as co-winner of the Poetry on Wheels contest.
enduring this endless winter
at night I hear deer dance
a ballet across the ice
in search of water
at first light I venture out
a granite sky looks like it might fall
the pond, humped with snow,
reveals light tracings from tiny hooves
scrimshaw on white bone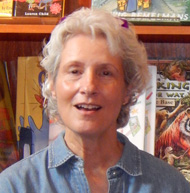 Toni Heringer Falls read with us October 11, 2014, at the Twig Book Shop in San Antonio. A retired teacher, psychotherapist, and inactive Licensed Professional Counselor, Toni and co-author Janice Rebecca Campbell have published a collection of poetry, Braided Stream.