Bearing the Mask: Southwestern Persona Poems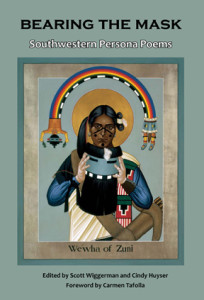 Poetry of the American Southwest, Number Two
Scott Wiggerman and Cindy Huyser, Editors
Foreword by Carmen Tafolla
Cover Image: We'wha of Zuni by Robert Lentz, OFM
Cover Design by David Meischen and Scott Wiggerman
$19.95 – 224 pages
From the Foreword:
A unique glimpse at a special region known to some as borderlands, this anthology of persona poems gives articulate voice to the many peoples and periods that have made their mark on this scarred and sacred land of deserts and rivers, Indian petroglyphs and fifty-foot marionettes, haciendas and Air Force bases, this ground so varied in climate and culture but so unified in spirit. The spirit of this terra incognita fits its original definition as "unknown territory," for unknown also implies undefined and therefore unbound, open to interpretation. The reach of these voices is both global and personal. From "Years Following Her Death, Former Texas Slave Silvia King Speaks to a Kidnapped Nigerian Girl" to "Chester Nez Arriving at Guadalcanal, 1942," these are human voices in all their honesty and depth of caring.
The range of voices here is as beautiful and translucent as a rainbow. From Cochise to Calamity Jane, Navajo Code Talkers to Japanese internees, Devil Girl and Old Man Gloom, slaves and stunt pilots, Paiutes and migrant mothers, Annie Oakley and Georgia O'Keeffe, security officers and French tourists, Gregorio Cortez, La Llorona, and Cynthia Ann Parker — all come to life here, speak their own truths and their own sacred space in these poems. The beauty of their lives shines through in a history that refuses to be erased, voices that refuse to be silenced.
Singular for its balance and its stance against inhumanities like racism and sexism, this anthology keeps a truly holistic perspective on what this region emanates in its spirit, its courage, and its beauty. This is one of the most unique, diverse, and authentically exciting portrayals of the voices of the Southwest I have seen because it has told the many sides of the story and plumbed the many layers of history, taking us beyond our own shallow and thin-voiced prejudices and into the fullness of a rich and powerful harmony of many varied songs of human experience.
Carmen Tafolla
State Poet Laureate of Texas 2015-2016

Back to Top

Lifting the Sky: Southwestern Haiku & Haiga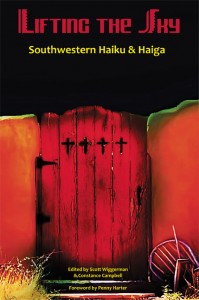 Poetry of the American Southwest, Number One
Scott Wiggerman and Constance Campbell, Editors
Foreword by Penny Harter
Cover Photograph by Carol King
Cover Design by David Meischen and Scott Wiggerman
$15.95 – 108 pages
Lifting the Sky is the first in a new series from Dos Gatos Press: Poetry of the American Southwest. A perfect marriage of form—haiku—and subject—the limitless inspirations of the American Southwest—Lifting the Sky is essential reading for haiku and poetry lovers everywhere. With thirty-three stunning haiga, this collection is also a treat for the eye. Penny Harter, co-author of The Haiku Handbook (25th Anniversary Edition, 2010), contributed the foreword. "Here," Harter says, "we enter haiku and haiga that take us through the beauties of the landscape—from desert and mountains to the sea; poems that express the poets' political, spiritual, mythical, cultural, and deeply personal connections to the Southwest; poems that make us laugh or cry; and poems drenched in light that repeatedly carry us from the Earth into the stars and galaxies. As does the landscape, these poems lift us out of ourselves."
Circumference of Light
Cover Design by David Meischen
$15.95 – 120 pages
Circumference of Light opens on the poet as he waits for the words to come, as he relives the "Dream of a Dead Son," recently and suddenly lost. These poems unfurl over four chapters, moving from contemplations on grief, in "The Quiet Footman," to meditations on the self, in "This Man in the Mirror"; from there to "Small Praises," wherein the poet addresses daily pleasures of the natural world, the modest wonders that have always engaged his attention—and finally, in the title chapter, to light as the life force coursing through our veins. Always, there is Bruce Noll, our Whitmanesque narrator studying himself—boy, man, husband, father, grandfather—contemplating both unbearable loss and the many little blessings that buoy us in the midst of grief.
Letting Myself In
Cover Design by Kristee Humphrey
$15.95 – 88 pages
This is Texas, land of dusty pickup trucks, farmers in red flannel shirts, hot biscuits and honey. McCrady is writing the score of a woman's life: marriage, family, leaving something behind, moving on. Always, she's an acute and keen observer: "at the portal of this kitchen window / lifted from waves of worry, / I am a sailor who can finally see home." McCrady is "a woman who sings / to meet the morning," who wants "the roux to be perfect," while at the same time mindful that "yes everything / that is precious / breaks and is remade." Open this book, come along with her on the journey. It will crack open your heart.
~ Barbara Crooker, winner of the 2009 Paterson Award for Literary Excellence
From "cold, oatmeal mornings" to "gun-barrel afternoons," the poems of Letting Myself In allow the reader into the mind of a poet who fully inhabits life, whose careful eye misses nothing, and whose empathy is tempered with a wise and wry irony. McCrady's spirited heart-felt writing is full of unique Texas themes and idioms; however, there are also many universal pastorals ringing clear, sweet, and eternally true, as when "cicadas kazoo / the last verses of their camp song, / that tinnitus of summer."
~ Dave Parsons, 2011 Texas Poet Laureate
Anne McCrady takes us on a walk through her beloved East Texas, through life and death and everyday moments of grace in Letting Myself In. We hear the farmer, "hoe in brown hands," as he describes his land as Paradise; we feel the church choir in "103 Degrees" singing "gospel songs about mercy"; we watch hunters "shaking sleet from their shoulders /and pulling mud-caked boots loose." This is the journal of a beloved place and a beloved people, with bits of the holy finding their way into each—fishermen, "like saints, / each seeking a secret / piece of freshwater heaven"; sand-hill cranes, "pure ballet: all leg and wing and skirt."
~ Karla K. Morton, 2010 Texas Poet Laureate
Redefining Beauty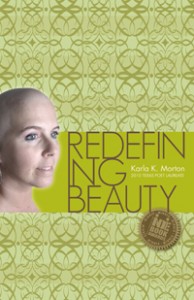 This stunning book of poems is now in its THIRD printing—
a FIRST for Dos Gatos Press!
Poems by Karla K. Morton, 2010 Texas Poet Laureate
Photographs by Walter Eagleton
Cover Design by Kristee Humphrey
$17.55 – 64 pages
Redefining Beauty grew out of author Karla K. Morton's diagnosis, treatment and recovery from breast cancer. In a series of passionate and powerful poems, accompanied by photographer Walter Eagleton's stunning black and white images, Morton offers readers hope and comfort through her intimate candor, good-humored defiance and unfiltered honesty. Redefining Beauty has been named the Winner in the Women's Issues category of the 2010 Next Generation Indie Book Awards.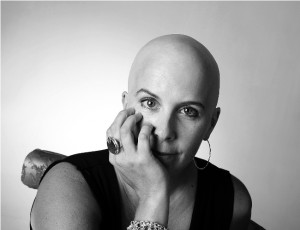 "Morton's Redefining Beauty presents a fresh perspective on cancer. In effect, it is a redefining of more than just what is beautiful concerning our bodies, relationships, and poetry; it's a redefining of cancer in those spaces as well. Her ability to combine beauty and ugliness, sickness and sweetness, and humor and fright makes her collection an intriguing and entertaining one."
— Laura E. Decker, in Texas Books in Review



Back to Top

Texas Poetry Calendar 2018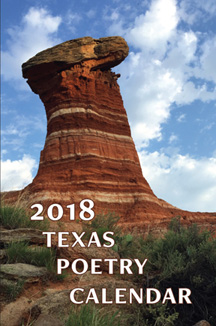 Wade Martin & Allyson Whipple, Editors
David Meischen, Consulting Editor
Cover Photograph — Red Star Ridge hoodoo, Palo Duro Canyon — by Jerry Hamby
Cover Design by David Meischen
This is our last edition of the Texas Poetry Calendar, and you're going to love it! Our editors have read the poems from nine previous years and selected their favorites—128 poems capturing the many flavors of the Lone Star State. You'll find poems by former state Poet Laureates Rosemary Catacalos, Laurie Ann Guerrero, karla k. morton, Jan Seale, and Carmen Tafolla, along with a poem by Carol Coffee Reposa, recently selected as our 2018 Poet Laureate. To make room for all the poems our editors wanted, we've added four double-page spreads—with poems for Spring, Summer, Fall, and Winter. Order yours now. Then settle in and savor the poems!

Back to Top


Big Land, Big Sky, Big Hair:
Best of the Texas Poetry Calendar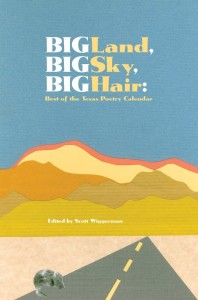 Scott Wiggerman and Jason Robberson, Editors
Cover Design by Kristee Humphrey
$17.95 – 224 pages
The Lone Star State comes to life in Big Land, Big Sky, Big Hair. From the Gulf Coast to the Big Bend, from the Panhandle to the Rio Grande Valley—the people, flora, fauna, places, weather, and seasons of Texas are well represented among the collection's almost 300 poems, all published during the first decade of the Texas Poetry Calendar. The 187 poets are as diverse as the poems themselves, from housewives to university professors, from those just starting in poetry to those with numerous credits and world renown—all touched by Texas in some way. Everything about this volume is big, especially the rewards.
"From the freak South Texas snowstorm to the summer day with 'cicadas winding up their missionary pitch,' from grackles to gadwalls to collared pecaries—Big Land, Big Sky, Big Hair showcases the everyday as well as the extraordinary."

— Susan Hanson, in Texas Books in Review