2014 Texas Poetry Calendar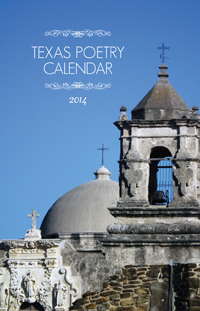 David Meischen, Scott Wiggerman, Cindy Huyser, and Laurie Ann Guerrero, Editors
Cover Photograph by Cindy Huyser
Cover Design by Kristee Humphrey
$13.95
You're going to love our 2014 calendar. The cover itself is a treat—Cindy Huyser's stunning photograph of San Antonio's Mission San Jose, with Kristee Humphrey's crisp, clean graphic design.
Inside you will discover 98 poems as diverse and original as the state itself. Texas State Poet Laureate Rosemary Catacalos opens the calendar with a poem on the inside front cover. As you turn the pages, you'll see names that have appeared in our calendar before, keeping company with poets who are published here for the first time. You'll find young poets, established poets, and award-winning poets. You'll find poems that invite multiple readings.
Enjoy.
The Poets:
Gloria Amescua, Evelyn Corry Appelbee, Michael Baldwin, Linda Banks, Jan Benson, Patricia Spears Bigelow, Joe Blanda, Barbara Blanks, Christine Boldt, Donna Bowling, Dayna J. Bradley, Tony Burnett, Jesse Castro, Rosemary Catacalos, Sandra Boike Cobb, Elzy Cogswell, SuzAnne C. Cole, Kay L. Cox, Stan Crawford, V. P. Crowe, T. Jackie Cuevas, Carolyn A. Dahl, Ysabel de la Rosa, Jeffrey DeLotto, Margaret Dornaus, Cathy Downs, Robin Wyatt Dunn, Diane Durant, Chris Ellery, Nancy Fierstien, Carolyn Tourney Florek, Martha K. Grant, Jerry Hamby, Jerri Hardesty, Michael Harty, J. Todd Hawkins, Emily Ruth Hazel, George Held, Claudia D. Hernandez, Katherine Hoerth, J. Paul Holcomb, Ann Howells, Aletha Irby, Glynn Monroe Irby, Carie Juettner, Marcelle Kasprowicz, Marta Knobloch, Elizabeth Kropf, Jim LaVilla-Havelin, Barbara Lazar, Erica Lehrer, Nikki Loftin, Ed Madden, Ricki Mandeville, Wade Martin, Darla McBryde, Kirsty McCormack, Neil Meili, Judith Austin Mills, Polly Monear, Sheila Tingley Moore, Karla K. Morton, Katie O'Sullivan, Joy Palmer, Trilla Pando, Sheri Pattillo, Michelle Paulsen, Brady Peterson, Elina Petrova, Sheree Rabe, Elizabeth Raby, Elena Lelia Radulescu, Anjela Villarreal Ratliff, Carol Coffee Reposa, John E. Rice, Mary E. Riley, Brenda Nettles Riojas, Brenda Roberts, Dora Robinson, Hugo E. Rodriguez C., Susan Rooke, Gary S. Rosin, Marybeth Rua-Larsen, Jeff Santosuosso, Shubh Bala Schiesser, Don Shook, Sandra Soli, Amy Stengel, L. J. Sysko, Edward Underhill, Beverly Voss, Samantha Wallace, Donny Wankan, Allyson Whipple, Shannon Lee Williams, Debra L. Winegarten, Tria Wood, Robert Wynne
Letting Myself In
Cover Design by Kristee Humphrey
$15.95 – 88 pages
This is Texas, land of dusty pickup trucks, farmers in red flannel shirts, hot biscuits and honey. McCrady is writing the score of a woman's life: marriage, family, leaving something behind, moving on. Always, she's an acute and keen observer: "at the portal of this kitchen window / lifted from waves of worry, / I am a sailor who can finally see home." McCrady is "a woman who sings / to meet the morning," who wants "the roux to be perfect," while at the same time mindful that "yes everything / that is precious / breaks and is remade." Open this book, come along with her on the journey. It will crack open your heart.
~ Barbara Crooker, winner of the 2009 Paterson Award for Literary Excellence
From "cold, oatmeal mornings" to "gun-barrel afternoons," the poems of Letting Myself In allow the reader into the mind of a poet who fully inhabits life, whose careful eye misses nothing, and whose empathy is tempered with a wise and wry irony. McCrady's spirited heart-felt writing is full of unique Texas themes and idioms; however, there are also many universal pastorals ringing clear, sweet, and eternally true, as when "cicadas kazoo / the last verses of their camp song, / that tinnitus of summer."
~ Dave Parsons, 2011 Texas Poet Laureate
Anne McCrady takes us on a walk through her beloved East Texas, through life and death and everyday moments of grace in Letting Myself In. We hear the farmer, "hoe in brown hands," as he describes his land as Paradise; we feel the church choir in "103 Degrees" singing "gospel songs about mercy"; we watch hunters "shaking sleet from their shoulders /and pulling mud-caked boots loose." This is the journal of a beloved place and a beloved people, with bits of the holy finding their way into each—fishermen, "like saints, / each seeking a secret / piece of freshwater heaven"; sand-hill cranes, "pure ballet: all leg and wing and skirt."
~ Karla K. Morton, 2010 Texas Poet Laureate
Lifting the Sky: Southwestern Haiku & Haiga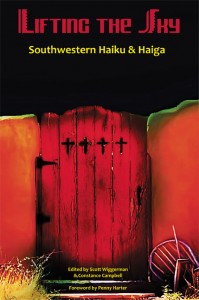 Scott Wiggerman and Constance Campbell, Editors
Foreword by Penny Harter
Cover Photograph by Carol King
Cover Design by David Meischen and Scott Wiggerman
$15.95
Lifting the Sky is the first in a new series from Dos Gatos Press: Poetry of the American Southwest. A perfect marriage of form—haiku—and subject—the limitless inspirations of the American Southwest—Lifting the Sky is essential reading for haiku and poetry lovers everywhere. With thirty-three stunning haiga, this collection is also a treat for the eye. Penny Harter, co-author of The Haiku Handbook (25th Anniversary Edition, 2010), contributed the foreword. "Here," Harter says, "we enter haiku and haiga that take us through the beauties of the landscape—from desert and mountains to the sea; poems that express the poets' political, spiritual, mythical, cultural, and deeply personal connections to the Southwest; poems that make us laugh or cry; and poems drenched in light that repeatedly carry us from the Earth into the stars and galaxies. As does the landscape, these poems lift us out of ourselves."
Contributors:
Joy Acey, Gloria Amescua, Ramesh Anand, Evelyn Corry Appelbee, Robert A. Ayres, Linda Banks, Roberta Beary, Roy Beckemeyer, Sidney Bending, Brad Bennett, Jan Benson, Barbara Blake, Joe Blanda, Barbara Blanks, Ron Blanton, Christine Boldt, Daniel Bowman, Dayna Bradley, Ed Bremson, Mark E. Brager, Frances Briggs, Mike Burwell, Claire Vogel Camargo, Jesse Castro, Danny Clark, Sally Clark, Sandra Cobb, Amelia Cotter, Carolyn Dahl, Margo Davis, Meloni Davis, Jane DeJonghe, Lori Desrosiers, Margaret Dornaus, Shannon Dougherty, Peg Duthie, Lynn Edge, Brendan Egan, Chris Ellery, Bryce Emley, Robert Epstein, Nancy Fierstien, Gretchen Fletcher, Carolyn Tourney Florek, Sue Foster, Cara Fox, Susan Gabrielle, Alan Gann, Sue Mayfield Geiger, Mel Goldberg, Katie Goode, Amy L. Greenspan, Barbara Randals Gregg, Jerry Hamby, Jerri Hardesty, Lisa Hase-Jackson, J. Todd Hawkins, Jeffrey Hoagland, J. Paul Holcomb, Peter Holland, Ann Howells, Joseph Hutchison, Cindy Huyser, Aletha Irby, Elizabeth Jacobson, Dani Raschel Jimenez, Marcelle Kasprowicz, Scott Keeney, Larry Kelly, Julie Bloss Kelsey, Tricia Knoll, Geoffrey A. Landis, Albert Vetere Lannon, Gayle Lauradunn, Barbara D. Lazar, Wayne Lee, Catherine L'Herisson, Becky Liestman, Rebecca Lilly, Ellaraine Lockie, Doris Lynch, Sandra D. Lynn, Dennis Magliozzi, Wade Martin, Darla McBryde, Janet McCann, Kaitlin Mara Meadows, Teresa Milbrodt, Vasile Moldovan, Diane Morinich, Máire Morrissey-Cummins, Carol Moscrip, Allene Rasmussen Nichols, Miranda Nicole, Katherine Durham Oldmixon, Sergio Ortiz, Stephen Page, Shin Yu Pai, Christa Pandey, Pearl Pirie, Barbara Green Powell, Joan Prefontaine, Anjela Villarreal Ratliff, John E. Rice, Brenda Roberts, Cliff Roberts, Gary S. Rosin, Charlie Rossiter, Stephanie Schultz, Jennifer Smith, Sandra Soli, Jan Spence, Ann Spiers, Joseph Stack, Sandi Stromberg, Susan Beall Summers, Sheri Sutton, Lesley Anne Swanson, Natachia Talbert, Lisette Templin, Lillian Susan Thomas, Charles Trumbull, Sylvia Riojas Vaughn, Loretta Diane Walker, Richard Wells, Christine Wenk-Harrison, Joanna M. Weston, Allyson Whipple, Mary F. Whiteside, Neal Whitman, p. wick, James Willard, Barbara Yost
Redefining Beauty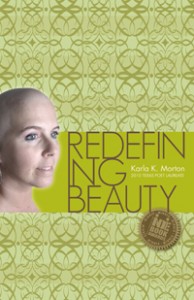 This stunning book of poems is now in its THIRD printing—
a FIRST for Dos Gatos Press!
Poems by Karla K. Morton, 2010 Texas Poet Laureate
Photographs by Walter Eagleton
Cover Design by Kristee Humphrey
$17.55 – 64 pages
Redefining Beauty grew out of author Karla K. Morton's diagnosis, treatment and recovery from breast cancer. In a series of passionate and powerful poems, accompanied by photographer Walter Eagleton's stunning black and white images, Morton offers readers hope and comfort through her intimate candor, good-humored defiance and unfiltered honesty. Redefining Beauty has been named the Winner in the Women's Issues category of the 2010 Next Generation Indie Book Awards.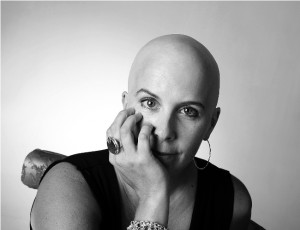 "Morton's Redefining Beauty presents a fresh perspective on cancer. In effect, it is a redefining of more than just what is beautiful concerning our bodies, relationships, and poetry; it's a redefining of cancer in those spaces as well. Her ability to combine beauty and ugliness, sickness and sweetness, and humor and fright makes her collection an intriguing and entertaining one."
— Laura E. Decker, in Texas Books in Review



Back to Top

Big Land, Big Sky, Big Hair:
Best of the Texas Poetry Calendar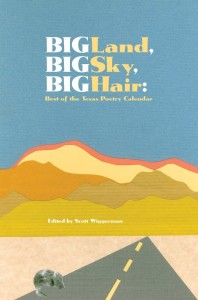 Scott Wiggerman and Jason Robberson, Editors
Cover Design by Kristee Humphrey
$17.95 – 224 pages
The Lone Star State comes to life in Big Land, Big Sky, Big Hair. From the Gulf Coast to the Big Bend, from the Panhandle to the Rio Grande Valley—the people, flora, fauna, places, weather, and seasons of Texas are well represented among the collection's almost 300 poems, all published during the first decade of the Texas Poetry Calendar. The 187 poets are as diverse as the poems themselves, from housewives to university professors, from those just starting in poetry to those with numerous credits and world renown—all touched by Texas in some way. Everything about this volume is big, especially the rewards.
"From the freak South Texas snowstorm to the summer day with 'cicadas winding up their missionary pitch,' from grackles to gadwalls to collared pecaries—Big Land, Big Sky, Big Hair showcases the everyday as well as the extraordinary."

— Susan Hanson, in Texas Books in Review