Editors


Scott Wiggerman, co-founder & Editor in Chief
David Meischen, co-founder & Managing Editor
Allyson Whipple, Texas Poetry Calendar Editor
Wade Martin, Texas Poetry Calendar Editor
Scott Wiggerman is the author of Presence (Pecan Grove Press, 2011) and Vegetables and Other Relationships. A frequent workshop instructor, Scott served as editor for Wingbeats: Exercises and Practice in Poetry (2011) and Wingbeats II (2014), as well as two Dos Gatos Press collections—Lifting the Sky: Southwestern Haiku & Haiga (2013) and Big Land, Big Sky, Big Hair: Best of the Texas Poetry Calendar (2008). Scott has been nominated for a Sundress Best of the Net and three Pushcarts. A Dos Gatos Press co-founder, he has edited the Texas Poetry Calendar for ten years.
http://swig.tripod.com
David Meischen served as editor for Wingbeats: Exercises and Practice in Poetry and Wingbeats II. He has had poems in Borderlands, Southern Poetry Review, The Southern Review, and elsewhere. Winner of the Writers League of Texas manuscript award in Mainstream Fiction (2011) and the Talking Writing Prize for Short Fiction (2012), David  is seeking an agent or publisher for his novel in stories. A Dos Gatos Press co-founder, he has served as editor for five editions of the Texas Poetry Calendar.
www.meischenink.com
Allyson Whipple is the author of the chapbook We're Smaller Than We Think We Are (Finishing Line Press). Her second chapbook, Come Into the World Like That, is forthcoming from Five Oaks Press. Allyson is a student in the online MFA program in creative writing at the University of Texas–El Paso. She teaches ESL and business writing at Austin Community College.
www.allysonwhipple.com
Wade Martin, a 2014 Pushcart nominee, is editor of the Austin Poetry Society's Museletter. Wade participates in several poetry critique groups. He has been honored to teach a workshop at the Austin Feminist Poetry Festival and appear as a featured reader at the BookWoman and KinCity Reading Series. Wade's work can be found in Front Porch Review, Illya's Honey, and Haibun Today.
Artists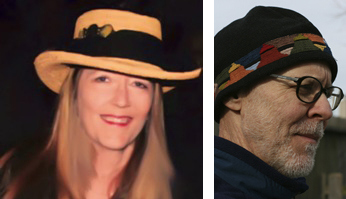 Carol King is the photographer and author of Texas Daytripper, a project focused on seeking the art of the back roads and small towns of Texas. To fund this passion, Carol is also the developer and owner of Custom Homebuilders' Solutions, a job cost and accounting software for builders.
Texas Daytripper
cKingGalleries
Custom Homebuilders' Solutions
A native of Amarillo, Jerry Hamby photographed the Cadillac Ranch for the cover of the 2016 Texas Poetry Calendar. He was in high school when Cadillac Ranch was installed by the art group Ant Farm. He has visited and photographed the site dozens of times and was fortunate enough to meet one its creators, Doug Michels in 2002 while touring another of Ant Farm's creations, The House of the Century. Jerry's interest in photography is linked to his love of nature, and his favorite images often come from placing the camera as close to the ground as possible. In photographing Cadillac Ranch, Jerry dug his knees into snow and snapped 750 photographs over a two-hour period, looking for nuanced ways to capture an iconic sculpture. The evolving nature of Cadillac Ranch was on display that day as dozens of interstate travelers placed their marks on the cars, and the greatest challenge was keeping people out of the frame. The fresh snow and late afternoon light were gifts as cirrus and cumulus clouds skated above the fins of the cars.
Back to Top
History and Mission
Scott Wiggerman and David Meischen founded Dos Gatos Press in 2004. We have published the Texas Poetry Calendar annually since 2006, when we took over its publication from Flying Cow Productions. In 2008, we released our first trade publication, Big Land, Big Sky, Big Hair: Best of the Texas Poetry Calendar. Since then we have published collections by two Texas poets—Redefining Beauty, now in its third printing, by 2010 Texas Poet Laureate Karla K. Morton, and Letting Myself In by Anne McCrady. In 2011, we published Wingbeats: Exercises and Practice in Poetry, following up in 2014 with Wingbeats II, our most ambitious project to date. In April 2013, we released Lifting the Sky: Southwestern Haiku & Haiga, the first book in a series titled Poetry of the American Southwest.
A nonprofit, tax-exempt corporation organized for literary and educational purposes, Dos Gatos Press seeks to make poetry more widely available to the reading public and to support writers of poetry—especially in Texas and the Southwest.
Small Press Distribution
In the spring of 2012, Dos Gatos Press joined Small Press Distribution (SPD).
Currently, SPD carries six of our titles:
Wingbeats: Exercises and Practice in Poetry
Wingbeats II: Exercises and Practice in Poetry
Lifting the Sky: Southwestern Haiku & Haiga
Letting Myself In
Redefining Beauty
Big Land, Big Sky, Big Hair: Best of the Texas Poetry Calendar
Based in Berkeley, California, SPD maintains a network of small, independent literary publishers. We are proud to be part of this network.
Read more about Small Press Distribution »
Contact Us
Mailing Address
6452 Kola Court NW
Albuquerque, New Mexico
Email Address