From the 2014 Texas Poetry Calendar
December 2014
November 2014
October 2014
September 2014
August 2014
July 2014
June 2014
May 2014
April 2014
March 2014
February 2014
January 2014
Vigo Park, 1937
In 1937, Vigo Park's parsonage did not
have running water. Edna carried water
from the outside well to the stove, heated
it for baths, but Charlie wanted a shower.
He rigged a crudely constructed stall, ran
a hose from the well pump, then waited
for darkness where no passerby could see
pastoral nakedness through partial walls.
His anticipation of well-water cleanness
marked his mind with happy thoughts as
he primed the pump, then raced to his stall.
At night, Panhandle sounds are numerous,
varied like rainbow colors, but the loudest
blue in the bow erupted that night in Vigo
Park when unwarmed well water splashed
Charlie's body with a flood of near ice. He
howled, grabbed his towel, hurried to Edna
for welcome warmth to make it through
what had become a nippy Panhandle night.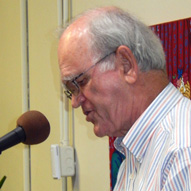 J. Paul Holcomb read with the Dallas Poets Community November 1, 2013. Past president of the Poetry Society of Texas, Paul is the author of a book of poems, Looking for Love in the Telecom Corridor; a chapbook, Love, or Something Like It; and a mini-chapbook, Story, Texas.
Near Year's End
In these burnt candlewicks
of days, the dry north wind
blows the scent of cold fires.
The bundled sky lets fall
no water. Through the night
hours we huddle, listening.
Coyotes like dark surf
surge through the yard,
babbling of stars and smoke.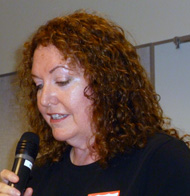 Susan Rooke read with us October 5, 2013, at the Georgetown Poetry Festival. A Pushcart nominee, Susan has recent poems in Exit 13, The Orange Room Review, San Pedro River Review, Your Daily Poem, Halfway Down the Stairs, the Texas Poetry Calendar, and other publications.
Acorn Sonnet
I'm sure the willful oak trees time their rain
of acorns, waiting for pedestrians
to pass below, then taking careful aim.
That stinging headshot's no coincidence —
there's more than gravity at work to hit
a moving target's tender skull that hard.
I felt less sore when my car windshield chipped
through acorn fire. At least I wasn't scarred.
The windshield mended, and my damaged pride
repaired as fall wrapped up. The trees ran out
of missiles, but I watched the parched divide
of street from sidewalk fill with ersatz grout —
a glossy border, polished and precise,
ten thousand gleaming acorns packed in tight.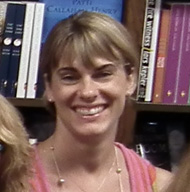 Kirsty McCormack read with us September 7, 2013, at Blue Willow Bookshop in Houston. A juried poet at the Houston Poetry Fest in 2012, Kirsty has a recent honorable mention in the Fish poetry contest and a runner-up place in Thynks Funny Poems for Children competition.
Back to Top


Dreamcatcher
In memory of
Hannah Longstreet Blackstone Riddle,
1833-1896, born "the night the stars fell"
Dreaming,
did you really fall through all those years
only to clutch the black East Texas soil?
Only the good dreams find the way, they say,
but something caught, prismed in the light
of day, whispered to the night,
ran free.
Grandmother,
your children walk a broken spiral —
stooped, gather rotted fiber,
shards of twinkling bead.
I scavenge with them, pretend to shadow
Wolf, track the passage of the moon.
Besides these matte eyes and darkened dreams,
I would have my token, too.
My own son's brightly-feathered web
hangs, mute witness, reminder that
the day will come when this will be forgotten, too.
And so the call to stand beneath the Leonids,
atop the black East Texas soil,
feel the stir of cast-off dreams beneath our feet,
await the falling of the stars.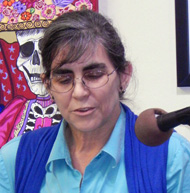 V. P. Crowe read with us November 1, 2013, at the Dallas Poets Community reading. A board member of the Dallas Poets Community, V. P. has had poetry in Electron Magazine, Red River Review, Illya's Honey, and other publications.
Back to Top


The Grackles of Velasco
Devout, they gather on power lines
and fill sprays of pampas grass
along the aisles of the Old Brazos
as she winds past Velasco towards Quintana
to flow into the Gulf, as the crow flies,
a few furlongs away.
Graphite feathers glowing
iridescent indigo and chartreuse,
they gaze through gold and onyx-opal eyes,
drill the sky with glorious ribbons
of poly-octave invocations.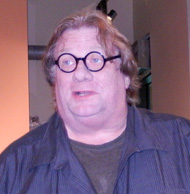 Glynn Monroe Irby read with us November 9, 2013, at the Twig Book Shop in San Antonio. A member of the Circle Way Poets and the Galveston Poets' Roundtable, Glynn has had work in Sol Magazine, Borderlands, and elsewhere. He is a co-author of 3 Savanna Blue (Plain View Press).
Back to Top


Gnarls
The mesquite taproot
burrows itself a hundred
feet or more
into the ground
and sucks the land
so dry that one-time
streams are reduced
to stone. A divining
rod provides little
in the way of guidance —
no dips, no sudden jerks
to left or right.
And under a mid-
afternoon sun,
he strikes a rock
once with a crooked
stick, then again
for good measure —
as if the gesture
could alter the equations
so carefully written
into the parched earth.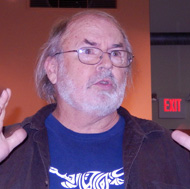 Brady Peterson read with us November 9, 2013, at the Twig Book Shop in San Antonio. Brady is the author of a chapbook, Glued to the Earth, and a full-length volume of poetry, Between Stations. His publication credits include Windhover, New Texas, Heartlodge, Nerve Cowboy, and Boston Literary Magazine.
Back to Top


Texas Autumn
The drought-painted leaves skitter,
drift into fading brown piles,
a mute elegy for the trees they topped,
too many felled by the same thirst
that earlier gloried their crowns.
The sun pulls back a dingy cloud curtain
to peer down with an indifferent eye,
then retreats from the stark view
below the faded blue sky,
pale shadow of summer's brilliance.
I turn my collar against the sharp breeze,
grateful for this respite from the inferno,
and grieve the loss of acres of trees
that await the chainsaw and fireplace,
scorched reminders of the water famine.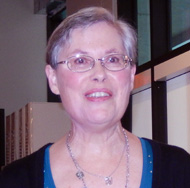 Donna Bowling read with us November 9, 2013, at the Twig Book Shop in San Antonio. Donna has poetry in Windhover, Peace Words, and the Texas Poetry Calendar. She co-authored Reclaiming Civility in the Public Square: Ten Rules that Work.
Back to Top


Cabbage Heads
Rockport, Texas
Innumerable jellyfish
bow, stern, starboard,
and port trailing in streams
like floating markers,
their gelatinous bodies
afloat and weightless,
bobbling like buoys
in schools of six, twelve,
twenty, like so many sightless
eyeballs, albescent, slightly veined.
I've seen these jellyfish before,
washed up and dead along the shore
but not so mystifyingly alive, abundant,
in the open black sea. I ask Miss Wanda,
a Texas Parks and Wildlife ranger,
about these creatures awash in Little Bay.
Some folks call 'em cannonballs but I've
always known 'em as cabbage heads.
My daddy used to hate when they
got caught in his trawling nets.
Sandra Boike Cobb read with us October 5, 2013, at the Georgetown Poetry Festival. Former Critique Chair and President of Rockport Writers Group, Sandra has had previous work in the Texas Poetry Calendar.
Back to Top


Advice for Texas Heat
Step into the August heat. Breathe deeply.
Allow the blood to thin.
Avert any venture without shoes.
Break open an egg on a cracked and tilting sidewalk
in the three o'clock sun and watch the transparent
turn gold, then brown. Realize this is nothing like
the autumn turning. Midsummer days are brutal.
Do not amble without sunscreen.
Wear linen or nothing.
Sit your dog in a child's pool. Ice your wine.
Place a milk glass bowl
of ice in front of the box fan shoved in the window
of a railroad cottage and do not move
the chair from that window.
Seek refuge in a river, a sultry place,
where the smell of hot limestone and the sanctified
mist, the burning oak, the singe of rosemary
tell you you're home.
Amy Stengel read with us September 7, 2013, at the Blue Willow Bookshop in Houston. A writer, a teacher, and a graduate student at the University of Texas–San Antonio, Amy is currently the Director of Creative Writing at the North East School of the Arts.
Back to Top


Seadrift
Bloated clouds
distill contraband moonshine
pin us to the ground
Mosquitoes so huge
they commandeer boats
row them out to sea
Ducks live it up
in the dark syrup of their marshes
Cattails
knee-deep in cool muck
slumber
Flowers open their mouths wide
drink themselves tipsy
Only we have forgotten
how to live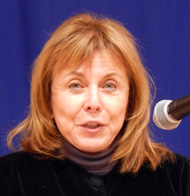 Marcelle Kasprowicz read with us December 7, 2013, at BookPeople in Austin. Marcelle writes in English and French; she is the author of two poetry collections — Organza Skies: Poems from the Davis Mountains (2005) and Children Playing with Leopards (2012).
Back to Top


It Don't Matter Who's in Austin
Up from the slouching clapboard walls,
we rise, kicking tin ceiling tiles, glass.
Who would shoot at such a place?
she asks, plugging holes with her artist's fingers.
I do not answer her, turning over a church-keyed can,
its red rust sticking to my fingers like sugar.
Over there must have been the stage
and that must be where they danced.
My grandfather said he once hopped a train
from Henryetta to Sherman to see the Texas Playboys.
The oilfields and cedar breaks streamed by
the slats in the boxcar,
the smell of sweat and pomade in his nose,
and a week's pay rolled tight
in the breast pocket of his town shirt.
The wind shifts, slapping thistles
against the walls of worm-holed pine.
It whistles like a high lonesome bow dragging
across catgut strings. It sings
a dreamy-eyed waltz.
Step back here through the weeds.
Take one last look.
Back in the car, we talk
about where we'd like to be buried
while the waves of yellow hawkweed roll.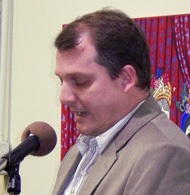 J. Todd Hawkins read with us at the Dallas Poets Community reading November 1, 2013. A poetry presenter at Ole Miss's Southern Writers/Southern Writing Conference, summer 2013, Todd has many publication credits, including Lifting the Sky: Southwestern Haiku & Haiga (Dos Gatos Press, 2013).
Back to Top


Texas High Plains
Just inside the distance, two lone
horsemen drive a hundred head
of white-faced cattle bawling and
stumbling across the thirsty plain,
their tired hooves merging earth and
tenacious wind into a cloud world
of swirling red above browning
yuccas flagging an indifferent sky
with their short year's work:
single stalks of seed pods sliding
down like falling rain, gaping, empty,
swaying in the restless wind.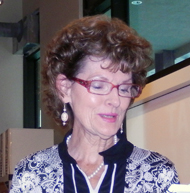 Sheila Tingley Moore read with us at the Twig Book Shop in San Antonio November 9, 2014. Vice president of the San Antonio Poetry Fair and president of the Alamo Area Poets of Texas, Sheila has twice won the Kitchener Foundation's Texas Senior Poet Laureate Award.
Back to Top


Phenomenon of the Vortex
Compared to its size, a vortex can transport energy over considerable distances, and its power is often underestimated. I knew the feeling: I was the only girl on the baseball team for years. Before I even reached the plate, the outfield crowded in, certain I was a swing and a miss at best. Coach gave me the sign. Digging my toe deep into red dirt, I laid down the perfect bunt. The path of a coyote across the desert can be marked by a succession of small dust devils. I ran like the wind.
But I'm older now. I know that centripetal force is an inward force, that a dust devil is only a minor whirlwind, that the plural of vortex is vortexes and vortices. And that there are others: hurricanes, neutercanes, tornadoes, whirlpools, waterspouts, cyclones, mesocyclones, drain whirlpools, smoke rings, bubble rings, sunspots, sand pillars, Martian dust devils, steam devils, coal devils, fire devils, leaf devils, snow devils, landspouts, gustnadoes, mountainadoes, and eddies, just to name a few. I know that friction causes loss.
The axis of a tornado is imaginary. I swirled an olive jar full of water, dish soap, and rainbow glitter as rubbish and beheld my own phenomenon.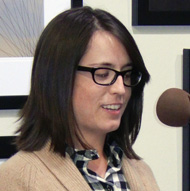 Diane Durant read with us November 1, 2013, at our reading with the Dallas Poets Communit. A member of the Ghost Town Arts Collective and the 500X Gallery, Diane has recent work in Sojourn, Borderlands, and RiverSedge, among others, and on gallery walls across the U.S.
Back to Top


Sunflowers
By fences in blowsy clumps,
By dumpsters, in cracks of sidewalks
Between beer cans in alleys,
they sprout, they sprawl across Texas
May to November.
Oblivious to heat and drought,
They send out leaves
In prodigal legions,
Their great green hearts
Beating everywhere
Beneath a blue steel sky
Finally enfolding us all
In gold.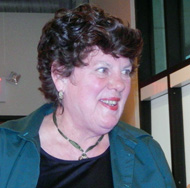 Carol Coffee Reposa read with us November 9, 2013, at the Twig Book Shop in San Antonio. A three-time Pushcart nominee and author of four poetry collections, Carol has poetry in The Atlanta Review, Coal City Review, Southwestern American Literature, and elsewhere.
Over Flat Creek Near Round Top, Texas
While the earth breaks the soft horizon
eastward we study how to deserve
what has already been given us.
~ William Stafford, "Love in the Country"
There is something about a creek or small stream
with its slow, reflective water,
pebble- or mud-bottomed,
which holds the sky and turtle as one.
Where duckweed grows into a floating carpet,
it is impossible for us to touch the water.
The steep bank is so tangled with wild rose and fallen trees
it would be foolish to try.
It's hot, the air still and almost silent except
for the vireo we know by its song.
I love these places, seemingly of no significance,
where the dirt road crosses over Flat Creek.
The vireo scrambles the air in its declaration of home.
The water is lazy. A turtle parts the green surface
and swims into the sky.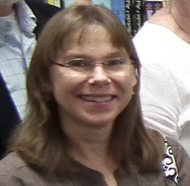 Carolyn Tourney Florek read with us September 7, 2013, at Blue Willow Bookshop in Houston. Co-founder of Mutabilis Press, a non-profit literary press devoted to poetry, Carolyn has had work in The Texas Review and Illya's Honey, among other publications.
Back to Top


Early Activist Training
The wall poster in my bedroom said,
War is not healthy for children and other living things.
I was nine. Wasn't I a child?
I borrowed my mother's long black chiffon scarf,
Tied it proudly around my right bicep
And went to second grade
That humid May morning in Dallas, Texas.
How was I to know
My school principal was
An ex-Marine drill sergeant?
His square buzz-topped crew cut
Bristling, he issued orders:
I'm going to have to ask you
To take that thing off.
Trembling with terror, I did.
And returned to my homeroom class,
Slowly re-wrapping the scarf around my arm
As I marched down the empty hallway.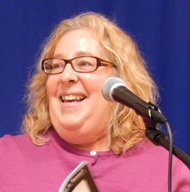 Debra L. Winegarten read with us December 7, 2013, at BookPeople in Austin. Debra won the 2011 Poetica Magazine national competition with There's Jews in Texas? — her fourth book and first poetry collection. Her fifth book, a biography of Oveta Culp Hobby, is a new release from U.T. Press.
Back to Top


At the Waco Wendy's After the Poetry Festival
Because our vocabularies are sufficient to describe
your skimpy dresses as harlequin, lamé, or Prussian blue,
because we have studied ancient myth and can read you
as three graces, not simply as one lithe and two rounder girls,
because we have seen enough in our long lives to rejoice
that the tallest among you wears dyed-to-match stilettos,
because we're trained in irony, can contrast kids behind the counter,
flipping burgers, and you, with your brand-new shimmer,
when your dates begin to clown, lift their hands and wave
so you will watch them tap-dancing beside the drink-lid station,
we curtail our talk of metaphor as the looking glass of life,
set down our sandwiches, enjoy their easy antics,
and file poets' briefs on the sweetness of this evening:
the late sun piercing plate glass, to glaze your heedless joy.
Thanks to our craft we're able to attend to your experience,
parcel into a few lines what, for one of you, might become
the moment you'll remember as the beginning of everything,
and concoct from our words a poultice to warm life's thinning threads.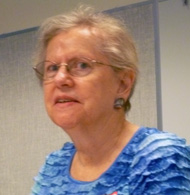 Christine Boldt read with us October 5, 2013, at the Georgetown Poetry Festival. A retired librarian and former Peace Corps volunteer, Christine has recent poetry in Christian Century, Windhover, the Washington Post, and the Dallas Morning News.
Back to Top


Theory of Wetness
Every Wednesday, forget the weather,
Fred gets wet when he walks his dog.
Four eyes afoot in a furry world,
where it's always raining somewhere.
Fred gets wet when he waters his lawn,
sliding home at dawn
in a daze of dull fluorescence.
Working off a shadow takes
time he doesn't have. Fred
stands out in the pouring rain.
The prospect of its falling
doesn't faze him.
He can always repair to his
water-damaged castle
to wait out the unrelenting
rancor of the rain, the fury of its flames —
pondering / perfecting
his latest theory of wetness.
Like rain in the desert, celebrated.
Like Gulf Coast humidity, hard to endure.
Once the pangs of drought
have been drained away,
a few blue flowers of doubt
always remain.
Joe Blanda read with us December 7, 2013, at BookPeople in Austin. Twice nominated for a Pushcart Prize, Joe won first place in the 2007 Texas Poetry Calendar Awards. He makes his living as an editor and musician.
Back to Top



youth puts on a coat —
from the sleeve emerges an
old and withered hand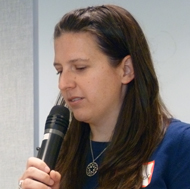 Carie Juettner read with us October 5, 2013, at the Georgetown Poetry Festival. Carie taught seventh-grade English for thirteen years before leaving education to write full-time. Her poems have appeared in the Texas Poetry Calendar, Every Day Poets, di-verse-city, and elsewhere.
Back to Top


Texas Ruby Reds
These South Texans weather
storms with dignity and grace.
They hold on when dancing in the wind,
bask in the hot sun,
celebrate the rain when it falls
and rest when the moon is full.
Some appear quite tough,
their sweetness hidden so deep
one needs to dig to enjoy the succulent center.
Some are better taken with a grain of salt.
Others go best with a shot of tequila.
Look on a laughing tree for fruit
with pebbled skin, a ruby blush
and a sweet open heart.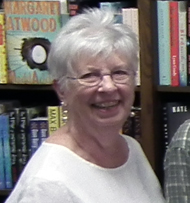 Kay L. Cox red with us September 7, 2013, at the Blue Willow Bookshop in Houston. A member of the Gulf Coast Poets, the Poetry Society of Texas, Spectrum Writers Guild, the Austin Poetry Society, and the Galveston Poets' Roundtable, Kay has had work in several issues of the Texas Poetry Calendar.
Back to Top


Aubade
Let's get old in a house with stairs
so we'll have something to complain about together
hanging onto the banister, each other,
as we hoist ourselves up and down.
I don't need grandchildren, so let's hang
laundry and petunias from the swingset,
send our son packing to New York or San Francisco, hell,
to Europe if he wants, even Nepal. He's smart. He'll find his way.
Let's get old in a house with no HOA — we'll build
a stone grotto for Aphrodite in the yard, ice its ceiling with seashells,
nurse cold longnecks in its blue light
and make out like teenagers again.
I'll roast Cornish hens if you'll scrub
the pots like always. You'll sing tunes I won't recognize
until the chorus, tell me again and again about how you fell
off the barbed wire fence to get your scar, and I won't mind at all.
Let's get old in a house with a coffee shop
round the corner where we'll roost at the counter
side by side and say the usual, settle into magazines
while we sip and tip double on Sundays just because.
If I start to shout, it's only because my ears
don't always catch my voice; my laugh will be louder, too,
and I'll lean into your shoulder in the garden, under the eaves,
to catch the kiss that always waits for me
right there on your cheek, next to your grin.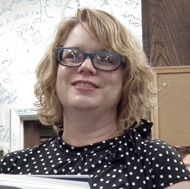 Tria Wood read with us at Houston's Blue Willow Bookshop September 7, 2013. Her work has appeared in Snowy Egret, Arcadia, The Mom Egg, Bayou Magazine, and other publications.
Back to Top


Crow
Nothing not expected.
Miles of wheat
spread over rolling prairie.
A solitary crow
hovers over the field
letting the wind
hold it up.
You do not hear the wind,
but you see ripples
pass over the prairie,
the sway of the wheat.
You see wings,
shifting angles, perhaps
the flutter of a feather.
You see the crow
dive into the wheat,
disappear.
Emerge, yards away,
return to its hover.
Nothing not expected.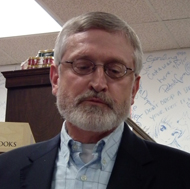 Gary S. Rosin read with us at Houston's Blue Willow Bookshop September 7, 2013.
Program Chair of the Houston Poetry Fest, Gary has had poems in Concho River Review, New Texas, and elsewhere. His chapbook Standing Inside the Web won the 1990 Lucidity Chapbook Contest.
Back to Top


Hija de Tejas / Daughter of Texas
The body seeks the way back home
And mine, the long way there . . .
I followed the bloody trail
to Europe, pre-Columbian Mexico,
the Mexican-American War and
then to Tejas — donde nací.
Texas, from the Caddoan: táysha,
meaning friends or allies. The second largest
state, a country really: from vast plains and rich valleys to snaking
rivers and mountainous chains under a lone-star banner,
with echoes of six flags still waving their altering
hands, saluting nations that once claimed the land —
colonizing, encroaching on Apache, Caddo,
Coahuiltecan, Comanche, Choctaw,
Jumano, Kickapoo, Kiowa, Tonkawa . . .
Amigos y enemigos embroidering a grand history,
birthing wondrously mingled sons and daughters.
Today, I am at home in my Texan skin:
piel canela, voz bilingüe, corazón Tejana.
Anjela Villarreal Ratliff read with us December 7, 2013, at BookPeople in Austin. Author of several chapbooks, including Entre Piedra Y Sol, a collection of haiku, senryu, and haiga, Anjela has recent work in Lifting the Sky: Southwestern Haiku and Haiga (Dos Gatos Press).
Back to Top


Lighting the New Year
A mystery moves in balance at this hour.
So human is the instinct to let go
Our undelivered purpose, squandered power.
We'd rather welcome loss we've yet to know.
The seasons play a finished chord at last.
One dozen fading tunes from twenty then
Comprise the changeless lyric of the past
And modulate to future songs again.
No other creature measures rhythmic flight
With sun-to-sun account sheet on the wall.
In retrospect our promise burns more bright
Than any blazing flutter of our fall.
The mystery born anew arrives at dawn —
For sun, for breath, for shadow, we move on.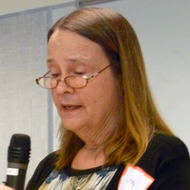 Judith Austin Mills read with us October 5, 2013, at the Georgetown Poetry Festival. Judith has had poems in several issues of di-verse-city and two volumes of Best Austin Poetry. She says that sonnets come to her when she invites; free verse shows up when it chooses.