From the 2013 Texas Poetry Calendar
December 2013
November 2013
October 2013
September 2013
August 2013
July 2013
June 2013
May 2013
April 2013
March 2013
February 2013
January 2013
Geb 1821 – Gest 1847
buried beneath
grass and sadness
no markers
they and she
died so quickly
dehydrated, diseased
tired         she had walked
so far, got so close
promises wilted
in her hands
yet this morning
a dawn breeze
brings breath, a
tiny pink flower
holds its head up
in the grass, doves
listen       i see life
singing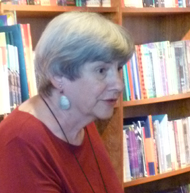 Lianne Mercer read with us October 27, 2012, at the Twig Book Shop in San Antonio. A certified poetry therapist and widely published poet, Lianne founded the Texas Poetry Calendar with Betty Davis in 1999.
Back to Top


The Hoot of the Owl Wakes Me
not the shrill alarm you set
not the running water you use to shave
it's still dark outside people asleep
but beginning to stir in their beds
waking from dreams they'll forget by mid-day
I can hear you in the shower
then drying yourself on the mat
the rattling of the ironing board
and all the while the owl hoots
in time with my soft snores and you
said you didn't know who was hooting
and who was snoring they both were
so alike I get up and you have your lunch
packed your coffee mug ready you kiss me
good-bye and I go outside in the first rays
of morning looking across the yard to the trees
wondering where the owl is settling in
for daylight dreams of catching a snake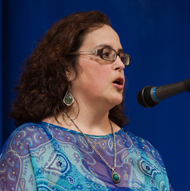 Laura Peña read with us December 1, 2012, at BookPeople in Austin. President of Gulf Coast Poets, Laura counts di-verse-city, the Texas Poetry Calendar, and the Houston Poetry Fest anthology among her publication credits.
Winter Lunar Eclipse in West Texas
Before sunset the sky clouds, turns
cold and rough as stale bread.
Outdoors beside the fire pit,
our boots propped against its iron
lip, we wait for an eclipse that
never shows. We've driven hours
west to weathered open country
to watch the moon go out, to see
the broad white face reveal
a spreading amber stain, like
spilled tea on a tablecloth, to sit
beneath a sky full of portents
as distant as the stars. But there is
no moon to see, there are no stars,
only the red fire burning at our feet,
its sparking constellations, and
our faces turned toward each other,
the profiles to the fire reflecting
flame, the rest eclipsed in amber
shadows, simply reflecting.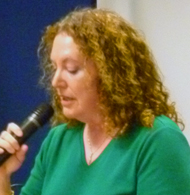 Susan Rooke read with us October 6, 2012 at the Georgetown Poetry Festival. Editor of the Austin Poetry Society's MuseLetter, Susan has recent poems in Exit 13, The Orange Room Review, San Pedro River Review, and elsewhere.
UFO
It's 3 a.m.
no one to confirm
what I see
but as I stand
in the middle of the street
in my pajamas
a long-haul driver
between Waco and Austin
on I-35
sees it too
he has seen
so many things
he can't explain
he dismisses this
as simply fatigue.
It may be my reason too
a fugitive from my dreams
as the star puts on a show
I was meant to see.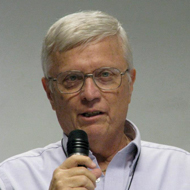 Mike Gullickson read with us October 6, 2012 at the Georgetown Poetry Festival. Co-editor and publisher of The Enigmatist and Blue Hole, Mike has a poem on display with San Antonio's VIA Metropolitan Transit. He and his wife Joyce Gullickson are founders of the Georgetown Poetry Festival.
Back to Top


On the Terlingua Porch
Last night a norther blew the new year in,
changing the Chisos to a floating vista of pale blue dust.
The mountains hover in the muted sunlight,
distanced from sky and earth.
Swept away like midnight confetti and discarded party hats,
grains of past days disappear in the sand.
What's important now are black-eyed peas and
cornbread, cold beers clinking toasts,
a clean slate, a bit of luck.
A borderland band is jamming fiddle
with a side of rock and roll.
The ghosts in the old cemetery rattle
rhythm, content under the crosses.
Like them, I keep time,
tapping my toes among the boulders and bones,
taking inventory, settling in.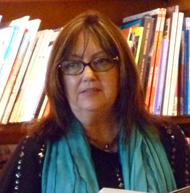 Darla McBryde (Spring, TX) read with us October 27, 2012, at the Twig Book Shop in San Antonio. The author of four poetry collections, Darla has had work in Poetology, the Austin Chronicle, Cenizo Journal, and elsewhere.
Back to Top


What I Don't Know
Tonight, the drinking gourd
clear in black gauze sky,
indoors the piñon fire crackles
softly, begins its slow fade.
Before the embers die,
the bob-tailed cat drinks
and drinks from its
aluminum bowl, disappears
on its mysterious rounds.
I know nothing—the movement
of stars, the chemistry of fire,
how to make an aluminum bowl,
the inner lives of cats. It's amazing
how full a life of ignorance can be.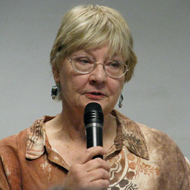 Elizabeth Raby (Santa Fe, NM) read with us October 6, 2013, at the Georgetown Poetry Festival. Elizabeth is the author of three poetry collections, including Ink on Snow and This Woman, both from Virtual Artists Collective.