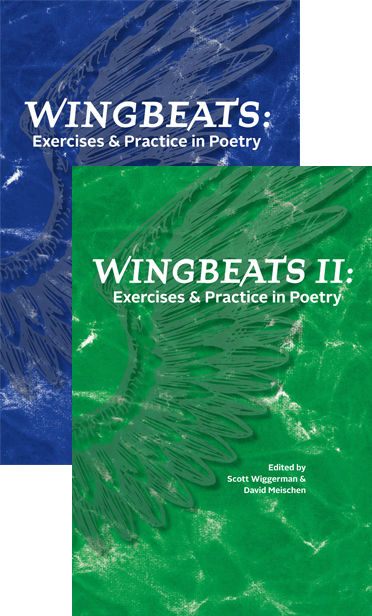 Wingbeats, the Original
58 Teaching Poets — 61 Poetry Writing Exercises
"opens the door wide to our creative selves"
— Gabriele Rico
$19.95 – 324 pages – ISBN: 9780976005193
Available from Amazon and Small Press Distribution
AVAILABLE AS AN E-BOOK
$13.95   ISBN-13: 978-09840399-0-6
Support Dos Gatos Press: Order Wingbeats from eBookIt.
Kindle, Nook, iPad—whatever your reader is—if you download it here, Dos Gatos Press keeps a much higher percentage than if you purchase from Amazon, Barnes & Noble . . .
Wingbeats II
59 Teaching Poets — 58 Poetry Writing Exercises

$22.95 – 360 pages – ISBN: 9780984039951
Available from Amazon
Available soon from Small Press Distribution



Contributors:
Wingbeats I: Rosa Alcalá, Wendy Barker, Ellen Bass, Tara Betts, Catherine Bowman, Susan Briante, Sharon Bridgforth, Nathan Brown, Jenny Browne, Andrea Hollander Budy, Lisa D. Chavez, Alison T. Cimino, Cathryn Cofell, Sarah Cortez, Bruce Covey, Oliver de la Paz, Lori Desrosiers, Cyra S. Dumitru, Blas Falconer, Annie Finch, Gretchen Fletcher, Madelyn Garner, Barbara Hamby, Carol Hamilton, Penny Harter, Kurt Heinzelman, Jane Hilberry, Karla Huston, David Kirby, Laurie Kutchins, Ellaraine Lockie, Ed Madden, Anne McCrady, Robert McDowell, Ray McManus, David Meischen, Harryette Mullen, Aimee Nezhukumatathil, Hoa Nguyen, Naomi Shihab Nye,Katherine Durham Oldmixon,, Kathleen Peirce, Georgia A. Popoff, Patty Seyburn, Ravi Shankar, Shoshauna Shy, Patricia Smith, Jessamyn Johnston Smyth, Bruce Snider, Lisa Russ Spaar, Susan Terris, Lewis Turco, Andrea L. Watson, Afaa Michael Weaver, William Wenthe, Scott Wiggerman, Abe Louise Young, Matthew Zapruder
Wingbeats II: Millicent Borges Accardi, Kazim Ali, Alan Birkelbach, Laure-Anne Bosselaar, Nickole Brown, Regie Cabico, Robin Chapman, Ching-In Chen, Alfred Corn, Barbara Crooker, Joanne Diaz, Carol Dorf, Keith Ekiss, Rhina P. Espaillat, Jill Alexander Essbaum, Anna Evans, Carmen Giménez Smith, Veronica Golos, Brent Goodman, James Harms, Allison Adelle Hedge Coke, Tony Hoagland, Elizabeth Jacobson, Tina Jacobson, Honorée Fanonne Jeffers, Meg Kearney, Christopher Kennedy, Melissa Kwasny, Christine Dumaine Leche, Ada Limón, Diane Lockward, Sheryl Luna, Pablo Miguel Martínez, Valerie Martínez, Cleopatra Mathis, Farid Matuk, Marty McConnell, David Meischen, Tomás Q.Morín, Karla K. Morton, Patricia Colleen Murphy, Alfred Nicol, Angela Alaimo O'Donnell, Kevin Prufer, Dean Rader, Victoria Redel, Lee Ann Roripaugh, Natasha Sajé, Jason Schneiderman, Tim Seibles, Sandra Soli, Adrienne Su, Marcela Sulak, Cole Swensen, Michael Theune, Sarah Vap, Rebecca Wee, Scott Wiggerman
Praise for Wingbeats I
"a manual to power-lift off the bookshelf"
— The Coachella Review
Wingbeats is a fabulous toolbox of innovative and practical ideas that literally every teacher of poetry workshops and at every level, from elementary poets-in-the-schools through the graduate MFA, will find indispensable. Covering a vast range from image to sound to form, the exercises are all concrete and clearly presented—a marvelous way to mine the imaginations and experiences of today's most dynamic poets. Invaluable!
— Cole Swensen, author of Gravesend, Ours, The Glass Age . . .
I opened Wingbeats—and fell in headfirst, caught in the feathers of the creative impulse. Wingbeats proves that poetry matters, that writing is an experimental discovery process, that there are many avenues to success, that writing poems is a gift we can all claim. The wealth of enabling nudges by the poets of Wingbeats—who share their energy, wisdom, and examples—opens the door wide to our creative Selves. No teacher, no aspiring poet, should be without the gentle guidance of this book.
— Gabriele Rico, author of Writing the Natural Way
The Wingbeats Workshops
Starting in July 2011, Dos Gatos Press has sponsored numerous workshops featuring exercises from Wingbeats I and now Wingbeats II. Upcoming workshops are listed below.
See what our Wingbeats workshops are like >>
Jumpstart Exercises to Get Writing Flowing
Saturday, June 28, 10:15–11 a.m.
at THE WRITERS' LEAGUE OF TEXAS 2014 AGENTS & EDITORS CONFERENCE
Hyatt Regency Austin, Hill Country Rooms A & B
208 Barton Springs Road
Poet Scott Wiggerman will lead three quick exercises—"Slinkies," "Lies," and "Scars"—designed to jump-start your morning, all from the forthcoming book he has edited with David Meischen, Wingbeats II: Exercises & Practice in Poetry. All you need to bring is paper, a pen, and creativity!
This workshop is appropriate for poets, fiction writers, and memoirists.
Scott Wiggerman Returns to the Summer Writing Retreat
"Scott was incredible. He really knows how to teach."
~ 2013 Summer Writing Retreat Attendee on Scott Wiggerman's Class
For registration information through the Writers' League of Texas »
Get ready to exercise! Poet and editor Scott Wiggerman returns for his seventh time to the Summer Writing Retreat in Alpine to lead participants in a week of generative writing. In 2011, Wiggerman, through Dos Gatos Press, published Wingbeats: Exercises & Practice in Poetry, which has continued to be on Amazon's list of top poetry writing books. This year the sequel, Wingbeats II, comes out with another impressive set of exercises from poets around the country—and this is your opportunity to experience an entire week of them.
"Imagination," wrote W. Somerset Maugham, "grows by exercise." These exercises will surely expand your imagination and your notions of what constitutes a poem, where a poem comes from, and how it develops. Letter poems, repurposed poems, Wikipedia poems? Yes, yes, yes! Ever try your hand at a landay, a haikoum, a braided narrative? You will. Both fun and challenging, this workshop will provide dozens of both orthodox and unorthodox exercises from prominent contemporary poets like Jill Essbaum, Kevin Prufer, Dean Rader, Carmen Jiménez Smith, Tim Siebles, and Cole Swensen to enliven your writing and expand your perspectives.
In addition, expect practice and discussion of techniques involving diction, voice, persona, imagery, metaphor, structure, cadence, repetition, and revision as Wiggerman leads the way through Wingbeats II with his own personal approach to the book's exercises, including a class favorite, his own hilarious "Writing the Bad Sonnet," because everyone can write a bad sonnet.
Wiggerman's classes are known for their quick pace and their "out of your comfort zone" methodology. You will write in ways you never thought possible, never even imagined, and you will leave Alpine with dozens of ideas and drafts. Each year, in addition to the daily classroom activities, the class generally makes one or two outings to nearby West Texas locales for additional writing inspiration. A lunch with a certain Texas Poet Laureate who lives in Alpine is often on the agenda, as is an evening workshopping session (optional, but worth it!). Expect to work—and play—hard all week.
Requirements: Instructions will be sent to class participants in advance of the retreat detailing any materials students will be expected to bring with them.
Wingbeats II at the Austin Feminist Poetry Festival
Saturday, Septmber 14, 2 p.m.
Link & Pin, 2235 E. 6th St #102, 78702
Scott Wiggerman and David Meischen will present exercises from Wingbeats II: Exercises and Practice in Poetry. Check back for details.
Find out more about the Austin Feminist Poetry Festival >>