From the 2011 Texas Poetry Calendar
December 2011
November 2011
October 2011
September 2011
August 2011
July 2011
June 2011
May 2011
April 2011
March 2011
February 2011
January 2011
Winter Solstice
Exposed against cedar's green,
these trees' gnarled bare-white
branches and twig bones
mimic ice crystals,
sculpted lace.
Quiet, this cold,
and steadfast
as the straw grasses,
fields full,
and the coarser grasses
weathered cream yellow.
Winter's coiffure, bold,
like the older woman
secure in unpainted
presentation, her hair
thick bushy bristles
self-trimmed
and unruly.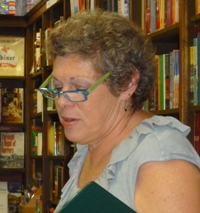 Jeannie Gambill read with us September 11, 2010, at the Blue Willow Bookshop in Houston. She has had poems in Gulf Coast, Cenizo, and The Weight of Addition—and has been a finalist in the Ruth G. Hardman/Nimrod Poetry Competition.

Woman Claims Cheeto Resembles Jesus Hung on the Cross
AOL webpage, August 14, 2008
Silver flickering ghosts emanate from the TV. The Spirit
incarnates in fried cornmeal, onion powder and cheese,
monosodium glutamate, autolyzed yeast extract. Also reported
in tortillas, flapjacks and screen doors burned by the sun.
Hard times are when He drops in. Hard times. Diamond times.
The world is dew drying on the grass, a stream chasing itself,
but a band marches by, out of sight down a parallel street,
and we sense melody from a secret source—if not that reprise,
then some other, like bubbles breaking. The sea's immensity
churns and a million discarded pieces of plastic are saved,
to land on a beach in Alaska. Tougher than ivory, longer
than whalesong. All at the same time, on the same beach!
More than chaos will ride to our rescue,
and Jesus comes into the corn once again.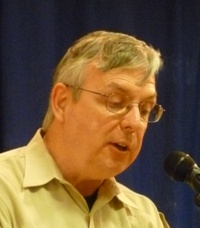 Stan Crawford read with us December 3, 2010, at BookPeople in Austin. He has had poems in many publications, including Borderlands, The Comstock Review, Ilya's Honey, and the 2010 Texas Poetry Calendar.

Family Motto
If you don't talk about it,
it didn't happen.
We keep our mouths shut
and our ghosts in the closet
and our minds on something else,
because that's how we survive.
Tenacious as nutsedge, we root
deep in the past. When others
poke and prod, trying their best
to unearth our secrets, we may
sprout a smile, forcing our drawn
lips to bow upward so long they
become numb with the effort,
but, even then, we hold on.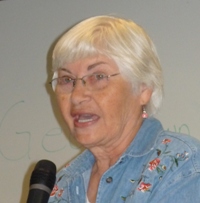 Linda Banks read with us October 2, 2010, at the Georgetown Poetry Festival. She has had poems in several journals and anthologies, including Swimming for the Moon and Big Land, Big Sky, Big Hair: Best of the Texas Poetry Calendar.

Wings of Fall
I watch the jagged V wobble
across the hazy morning sky.
Your camo-clad ghost
shoulders giant sacks of decoys
into your brother's red pickup.
Your long-lost black lab, Moe,
dances in the driveway.
And for just a moment
I hear your laugh
and see your smile.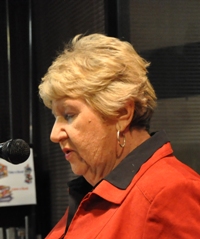 Barbara Ann Carle read with us December 6, 2010, at the Coffee Oasis in Seabrook. Winner of the Ted O. Badger Award for her poem "The Battle," she published a chapbook, New York Rhapsody, in 2010.

On the Lawn
he paces a mindful meditation
morning by morning he waters and
smoothes the wound of this transplanted turf
surgically removed from the soil of its seed and
grafted onto this backyard body—
a recent victim of South Texas scorch
his barefoot caresses—a shiatsu massage he hopes will
ease the ache of this new green skin
he wills to heal
blade by Bermuda blade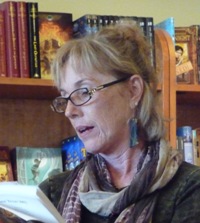 D. Ellis Phelps read with us October 23, 2010, at the Twig Book Shop in San Antonio. Poet, novelist, and working artist, she has directed creative writing events and the creation of performance art pieces in Texas schools, libraries, and museums.

Moe's Mole Poblano
I'll admit I too was a non-believer
the first time. Being a vegetarian,
I too cringed at anything so exotic, so perverted, so new.
Like you, I could not stop myself afterwards.
It is just two bay leaves,
eight peppercorns,
one pint of prepared mole poblano paste
(which I am sure is the nectar of some pagan god),
which you dissolve in two cups of chicken broth
(one Act of Contrition will pay for the guilt you feel for the loss of the pollo),
one tablespoon of Hershey's cocoa mixed with
three tablespoons of hot water,
one tablespoon of apple cider vinegar,
six garlic buds, peeled,
two tablespoons of lard,
(for this, say three Hail Mary prayers),
two tablespoons of sugar, and
four tablespoons of peanut butter.
Serve this on toast, or rice,
or anything you like. Yes, even meat.
Better yet—sit still while I lick that dribble from your chin.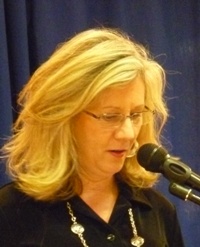 Donna Marie Miller read with us December 3, 2010, at BookPeople in Austin. Her poems can be found in di-verse-city, What Wilderness Is This: Women Write About the Southwest, Reflections, and elsewhere.

Texas Panhandle Slow Drive
Steel oil rigs splotch the landscape
as the day prepares to finish its shift.
White farmhouses speck the land;
cotton remnants, tiny clouds, spot fields.
The black earth is empty after birth,
skeletal arms of sprinklers hover over the horizon;
late sun coats a plush shadow on this land.
Heavy cows, colossal tractors, worn trucks
all shift into neutral as night begins.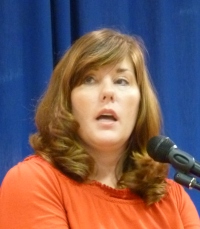 Tammy L. Beevers read with us December 3, 2010, at BookPeople in Austin. Beevers has an MFA in Creative Writing from Ashland University; she received an honorable mention in the Writer's Digest 78th Annual Writing Competition.

Late September
Dirt devils dart across barren prairies
Old pickup truck bounces down the road
Windows half cranked, radio turned loud
Patsy Cline filters into the late afternoon breeze
Seventeen miles to Dumas
Fuel gauge at quarter tank
Horned toad hides behind sandstone
Lightning tickles brooding clouds
Hallucinations of next year's harvest
Rainmaker dolls for sale
Murphy's Five and Dime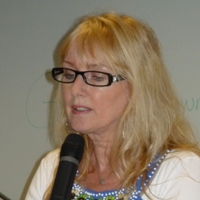 Diana Dettling Buckley read with us October 2, 2010, at the Georgetown Poetry Festival. A member of Gulf Coast Poets and the Poetry Society of Texas, she has had poems in Windows, Snapshots, and Sol Magazine.

Private Reserves
In the limestone pump house of an abandoned well
in the middle of the ranch house yard, on shelves
and stacked in cardboard boxes on the floor
are quarts of pickled Montopolis peaches, pints
of Douglas pear preserves, odd-sized jars of jelly
made from mustang grapes, and gallons of juice
from the Mexican plums gathered along the creek,
the labels rendered illegible by the syrup that seeps
through paraffin, sticking lid to jar, jar to shelf
(a date here, '58, or the contents in longhand, plums),
the preserves grown darker and sweeter, inedible, left
because preserves don't ever go bad, left
for the dead who put them by, who might one day
come looking for peach preserves to spread thickly
on slices of yeast-bread from the smokehouse near Blanco,
deserted twenty years ago at least.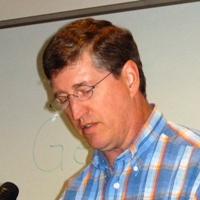 Robert A. Ayres, read with us October 2, 2010, at the Georgetown Poetry Festival. With an MFA from the Warren Wilson Program for Writers, he has recent poetry in Iron Horse, Laurel Review, Marlboro Review, and Rattle.

Bacchus in Texas
Bacchus, a terra-cotta mask,
grimaces, gape-mouthed
on the garden wall.
He's an expatriate under live oaks,
although the sun sets as outrageously here
as it did behind black cypresses
and the raw ocher oven
where he was first fired.
Moss has worked its way into his frown,
has given a cast to one of his eyes,
has split the curl of his lip.
The children watch him warily,
especially when one girl is brave enough
to tease the daddy longlegs
quartered in his throat.
Then, their pulsing communion disturbed,
the critters whisker down his chin.
Bacchus and I rarely converse now
about the old days,
but at the Feast of the Assumption,
Ferragosto, we usually remember
how the heat of a Roman summer
would explode the cones of the umbrella pines,
graveling a dusty piazza with pignoli.
And, last year, when a spider webbed
a monocle over his bad eye,
I took his picture.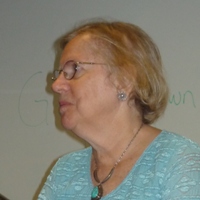 Christine Boldt read with us October 2, 2010, at the Georgetown Poetry Festival. She has had poetry in Windhover, Christian Century, and True Words, a publication of the Story Circle Network.

Kick the Can
I hid in the hay
for the count
but somehow you never found me there,
sunk in the straw smell
of brooms and dried cornflowers,
of fermented apples
drunk on the clean, fresh
odor of organic.
I remembered
the dry rustle wheat makes on a summer day,
undulating in a corn-silk wave,
the breathy drone of cicada
composed for siesta in the listless heat
while crickets rosin tuneless strings.
I soaked up the coolness of mud
patted like lotion over sunburn,
the supple skin of sunflower petals,
and the tang of bittergreen sheepshank.
When you found me asleep
I was dreaming of hunger
for cabbage grown in the soil
and plump tomatoes that ooze
the seedy blood of earth.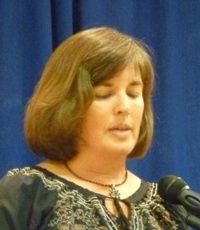 Laura Cottam Sajbel read with us December 4, 2010, at BookPeople in Austin. With poems in New Voices, Sustaining Abundant Life, and elsewhere, she coordinates an annual Young Writers' Workshop for Travis Heights Elementary School in Austin.

Thunder Moon
July's full moon is known as the Thunder Moon
The Texas summer heat
had become you: all angst and anger.
Cicada song, no more brittle
than your spirit against the blowing grit
of one more minute, one more day.
A rider thrown early. A farmer finished off.
Your fight for a better life, lost for good;
the future, stifling as a dust storm
on an open-windowed drive west.
You were through, whipped, all done,
until tonight, when—as proof that prayer
can divine God's sweetest mercy—
July gives you its huge Thunder Moon,
a bronze beacon in gold leaf sky,
your heart's darkness lit up
by streaks of silver heat lightning.
Too tired for talk, no taste for tears,
you undress yourself of opinions,
revisions, divisions, complaints.
Stepping out under the banner
of this victorious sky, your spirit
rises to the applause of crickets
and the forgiving coos of mourning doves.
Leaning back to look up into heaven,
you release every sorrow to a breeze
steeped in tea-colored moon shadow,
then drink in deep draughts of hope
sure as this Texas honeysuckled night.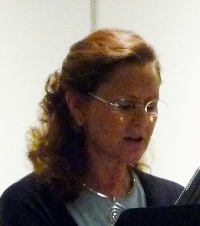 Anne McCrady read with us November 5, 2010, at the Dallas Poets Community reading. Winner of the 2003 Edwin M. Eakin Memorial Award for Under a Blameless Moon, she is a contributor to Wingbeats: Exercises and Practice in Poetry, new from Dos Gatos Press.

Opening Day
East light
inches down
shingle-spiked roofs,
filters ironworks of trees,
highlights leaves, climbs fences,
creeps to windows, imbues sheer curtains
with skeletal shadows of window panes,
flows over covers, slides across floors
dimples a door's brass knob,
anticipating Morning's
glory.
Katie O'Sullivan read with us September 11, 2010, at the Blue Willow Bookshop in Houston. She has had poems in Ascent Aspirations Magazine, Caper Literary Journal, the Texas Poetry Calendar, and elsewhere.

Three Weeks, More Rain
Small windows issue small views.
Birds shed the weather
in brief journeys
from treetop to wet ground.
Steam rises.
A gray summer sky.
You, leaving.
Spilled whispers
run the sills.
Three weeks, more rain.
So much left to do,
but nothing can be finished.
The trees lean
on their silver swords.
The groan of distant thunder
spells your name
in ghosts and chants.
I learn everything
I need to know
from small windows.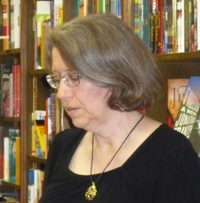 Carolyn Adams read with us September 11, 2010, at the Blue Willow Bookshop in Houston. Co-editor of Curbside Review, she is the author of Beautiful Strangers (Lily Press, 2006).

Mother Tongue
I love that word,
arrancar,
its forceful double r
and its hard c
pulling apart a stream of a's,
just as one rips a
zanahoria
from the earth,
its orange length
stretching from the smooth z
as it threads through the a's
and the gentle silence of the h,
then opens to a diphthong
sweet as a song from
a young girl's lips,
freshness offering
alimento,
nourishing my ears and mouth
and eyes and soul
with its lilting l
and murmuring m,
pouring forth from the roundness of o
the love and gratitude,
the untranslatable devotion
given freely to my
madre de mi alma,
mamá de mi corazón,
mamacita de mi cariño.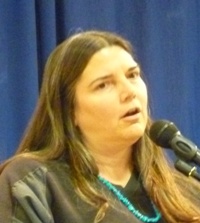 Mary S. Dallas read with us December 4, 2010, at BookPeople in Austin. She teaches English composition and literature at Austin Community College.

A Cardinal
There you were:
a willowy red among
the bottle-green
leaves of the brush.
I felt envious;
your wings
had brought you
to a whispered solitude
with equal freedom
as the wind that bore them.
You are hindered
by nothing. Within
this moment you
appear so blithe,
and I all but.
From without all
is encumbering me:
hands grasp to clutch my fingers,
mouths are open wide to feed,
hearts inner-loomed in an ineluctable weave.
As a man, I
am held by
life's humanness,
and you, you
are just a cardinal.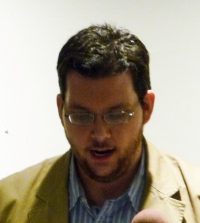 Justin M. Robinson read with us November 5, 2010, at the Dallas Poets Community reading. "The Cardinal" received an honorable mention in the 2011 Texas Poetry Calendar awards.

The Squirrel Police
The squirrel police have assigned their toughest cop
to this coveted beat, the limb above my bird feeder.
I track his sure-footed navigation through the complicated
treetop MTA, the tangled metro system of branches,
watch him hop like a hobo from line to line,
transferring without ticket or token at Elm,
Red Oak and Cedar to his final destination
at the end of Live Oak where he will spend his day
threatening and swaggering, nattering to himself,
idly swinging the nightstick of his tail,
dusting for fingerprints,
helping himself to the loot.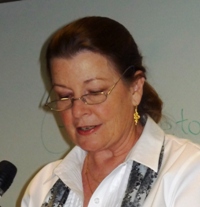 Martha K. Grant read with us October 2, 2010, at the Georgetown Poetry Festival. First published in Young Pegasus, she has two chapbooks out—Whatever Witch Awaits and A Somewhat Agreeable Compromise.

Hill Country Spring
I sit atop limestone boulders
among cedar breaks, pecan trees, pin oaks
gazing at miles of rolling hills.
My eyes follow the zig-zag of the chaparral
through bluebonnets, paintbrush, prickly pear blossoms
and I know why I stay.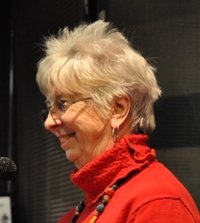 Kay L. Cox read with us December 6, 2010, at the Coffee Oasis in Seabrook. Winner of the 2008 Robert Clark Appreciation Award, she has poems in Tapestries, Sol Magazine, Crossings, and elsewhere.

Walking on People
The two women lock arms, walk
to the burial site. Their friendship
dates back forty years to when
they were schoolgirls. When
they were drop-dead gorgeous
they walked all over people.
Now, their heels spike into bluebonnet
earth, as they cut across graves.
They started out walking around
the foot of each grave until one broke
off a heel. Walking all over people
still comes naturally to them.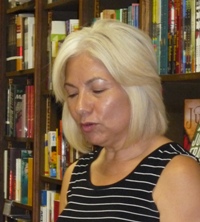 Vivian Macías read with us on September 11, 2010, at Blue Willow Bookshop in Houston. With poems in Sol Magazine and By-Line, she has had her work at Artables Gallery in Houston.

Odysseus at the Alamo
Odysseus at the Alamo
After a day of training in San Antonio
he heads downtown to be disappointed
by history once again, the way
everything sounds more impressive
than a structure of clay mud
and straw, behind which 189 men
crouched, surely thinking of all
they left behind: wives and children
dreaming of a victory that didn't happen
as winter made the breath of everyone
visible, fleeing into cold night air
until a scale model and gift shop
finally removed all reminders
that anyone gave their lives
for sterling silver collectible spoons,
shot glasses, and books of postcards
which will eventually be relegated
to attic boxes or sold at garage sales
because memory is the doorstop of time,
keeping anything with hinges open
just long enough for escape.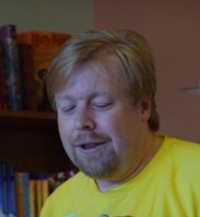 Robert Wynne read with us on October 23, 2010, at the Twig Book Shop in San Antonio. "Odysseus at the Alamo" is included in his third collection of poems, Self-Portrait as Odysseus.


As January Moves into February
Two bell peppers grow
alongside basil and jalapeños
in the garden, untended
during winter months.
Inside, the Christmas tree lights
fill the living room
with December not ready
to be put away.
In the driveway,
a hooped petticoat worn over jeans
sways to the one-two-three
of practiced waltz steps
before passing cars
as a quinceañera prepares
to curtsy away
from childhood.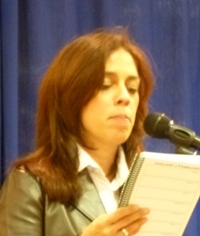 Brenda Nettles Riojas read with us on December 4, 2010, at BookPeople in Austin. With work in di-verse-city, Ribbons, and elsewhere, she has published a poetry collection, La Primera Voz Que Oí.
Gumbo Season
Dark, glimmering roux, another pot
done for the Super Bowl,
ten-count Gulf shrimp pinked
and anchored in Houston,
a wave of bayous cutting through spreads
of chocolate greens. I'm an authentic chef
standing in my own kitchen, chopping
white onions with naked hands,
slaying celery stalks, hulling poblano
peppers. Today, I sizzle pecan-smoked
sausage and come-to-Jesus cups
of stock. I'm not tenderness, rather more like leather
standing on a wood-slatted floor, stirring.
I'm on the up and up over okra, a sin
not to have what is rightful. Cilantro is a song
I sing until my arm hobbles away from this spoon.
I'm orthodox about a Lone Star's beer dribbling
into soup. My tongue can't hitch with sherry.
My head is thick and bursts open, a robin,
yearning for flavor, cradling astonishment
and quiet apertures of those seasons before.
It's that season again when friends return,
oiled for seconds.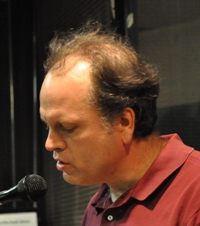 John Milkereit read with us on December 6, 2010, at the Coffee Oasis in Seabrook. He has two chapbook out, including Paying Admissions, a Finalist of Note in the 2009 Pudding House Chapbook Competition.

Black Feathers
Winter has ripped away the pecan tree's disguise,
exposing every muscle and sinew,
blemish and crack;
vulnerable to the wind's strong lust for power,
it could snap its wooden tendons with one heavy sigh.
And what of our vulnerability?
How we cling to anonymity, fear transparency,
for others to see us in our humanness,
or for things old and broken to surface, spill out
from behind walls of insecurity.
Once I told a secret.
I know the blow of rejection, the crush of words,
shame rising from my countenance
like steam from an iron.
On this winter's dusk,
clouds make a gray skirt around the moon's fat bottom;
over the pecan tree's bald head,
a wave of black feathers ripples
across a rain-colored sky.
The cold's icy knuckles brush my face,
batter grackles' wings, flapping, squawking
as though their out-of-tune melody will heat the air.
My hands are two brown rafts floating
in the warmth of my pockets when I see them—
two teenagers talking with their thumbs,
pressing buttons on cell phones,
swift, staccato, sure like the rain,
their voices drowning.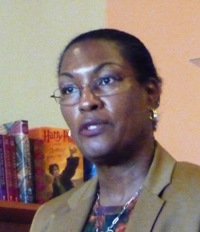 Loretta Diane Walker, of Odessa, read with us on October 23, 2010, at the Twig Book Shop in San Antonio. With recent work in The Concho River Review and The Texas Observer, she published a collection of her work, Word Flirtations: Poems of the Everyday, in 2006.

Witnesses
in the hills just off the highways
surrounding Wichita Falls
arrowheads poke their tips
above the dusty soil
witnesses waiting to testify
amid pump jacks
rusting in the sun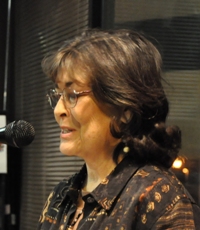 Rebecca Hatcher Travis, of Friendswood, read with us on December 6, 2010, at the Coffee Oasis in Seabrook. Her first book of poems, Picked Apart the Bones, winner of the Native Writers' Circle of the Americas First Book Award for 2006, was published by the Chickasaw Press in 2008.