From the 2012 Texas Poetry Calendar
December 2012
November 2012
October 2012
September 2012
August 2012
July 2012
June 2012
May2012
Aprill 2012
March 2012
February 2012
January 2012
from Manon, music by Jules Massenet
Returning from my errands, walking past
The lawyers and salesmen, hawkers of goods—
Jewels, well-cut suits, the latest gadgets,
All guaranteed to lift a mood, delude
Me into some civic satisfaction—
I escape, silly man, in reverie,
A harmless cliché, a private vision
Trading gutters for a clear, happy stream,
The busy sidewalks becoming leaf-strewn
Paths, the tenth floor condo, a white cottage
Needing paint, beside it a barbecue
Where I would grill, a little acreage
For a garden, orchard, a patch of woods
So the wild will survive to sing and swear.
Yet still I'm captured in my lonely mood
Reflected, on display. Where are you? Where?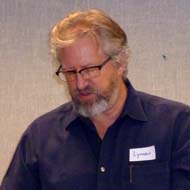 Lyman Grant read with us October 1, 2011, at the Georgetown Poetry Festival. Author of The Road Home, Lyman has published in many journals and anthologies, including Big Land, Big Sky, Big Hair: Best of the Texas Poetry Calendar.
Back to Top


Life on Ganymede
Last night fiery planet Jupiter arose
to star nearby our quarter crook of fall moon,
its lunar hook hovering low where evening grows
silky clouds that cast a fuzzy light-cocoon
about a streetlamp's yellow head and old rows
of red oaks shadowing November lawns. Soon
the glistening giant assumed its aspect high,
as your slow, warm palm crawled up my mid-life thigh.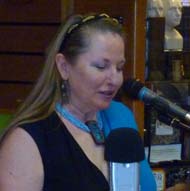 Katherine Durham Oldmixon read with us December 3, 2011, at BookPeople in Austin. Katherine has numerous publication credits; she teaches in the University of New Orleans low residency M.F.A. program.
Cicada Shell
Summer's fever has ended
when I find the translucent
paper-thin husk clinging
to the bark of the cedar elm.
I pry it from its rough perch
and look closely at the shell
split neatly along the back
as if it were a zippered jumpsuit.
My mother at the end of her life—
but not yet a shell—
once asked for a zipper
or at least an end
to the interminable prodding
by doctors and lab techs.
It's like I'm a bug
on the end of a pin, she said.
I don't know if
she was thinking of cicadas.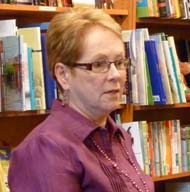 Jean Jackson read with us November 5, 2011, at the Twig Book Shop in San Antonio. President of the San Antonio Writers' Guild and vice-president of the San Antonio Poets' Association, Jean has recent poems in Dreamcatcher, Inkwell, and elsewhere.
Back to Top


El Taquachito
From the corner the taquache watches
his moves, careful not to get in the way
of love's midnight dance, where two not swayed
by death practice their steps. Not the tango,
not the waltz or a huapango, but el
taquachito. They move to a conjunto beat
only they can hear led by el acordeón
somewhere in the distance. Under a full moon
on some unnamed Texas ranch, el vaquero
calavera leads his mate in an eternal dance.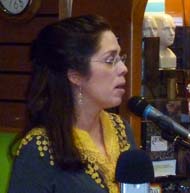 Brenda Nettles Riojas read with us December 3, 2011, at BookPeople in Austin. The author of La Primera Voz Que Oí, Brenda hosts Corazón Bilingue, a radio program about the impact of language and culture on writing.
Enchanted Rock in September: A Tritina
Sandals grip the dusty smooth surface of the stone
and a bead of sweat trickles down as I make my way up
and up and up beneath the sweltering heat of the sun's power.
Past prickly pear cacti and one lone puddle of water, I power
through the ache in my legs, pushing harder and harder against the stone,
trying to imagine how it felt centuries ago, to look up
and see, in the distance, above all the trees, filling up
the horizon, this spectacular view—this vision of power
and endurance—this natural wonder of stone.
It fuels my awe for this stone, rising up out of the landscape, full of magic, of power.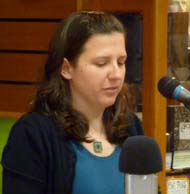 Carie Juettner read with us December 3, 2011, at BookPeople in Austin. Carie earned her first publication credit with the 2009 Texas Poetry Calendar; the recognition has inspired her to keep writing.
Tracking Hurricane Ike
Newsmen air footage nonstop:
Rising water battering the Seawall,
Wind bending palms
Into parabolas,
Half of Houston
Submerged.
But I am thinking of another sea,
Another time
When my teenaged grandchild
Pulled me into the waves.
Then the photo: spray rising around us
In an iridescent bubble
Above the white-sugar sand
And turquoise swells,
Her long arms wrapped around my waist,
Her hair a golden storm—
Something Botticelli might have brushed
One sunny afternoon.
For that instant
We are safe in the eye-wall
Of each other's arms,
Sheltered for the moment
From all the tempests waiting,
Hard squalls that will come
The next day or the next
In e-mails and text messages,
Offices and classrooms,
Courtrooms and bedrooms,
Rising water everywhere.
I hold her tight.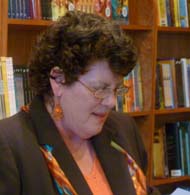 Carol Coffee Reposa read with us November 5, 2011, at the Twig Book Shop in San Antonio. A three-time Pushcart nominee and author of three books of poetry, Carol is a professor emeritus of English at San Antonio College.