The 2014 Texas Poetry Calendar:
Pushcart Nominations
Read our current Pushcart nominations in the Texas Poetry Calendar »
"Lesser Nighthawk" by Patricia Spears Bigelow — in the 2014 Texas Poetry Calendar, October overview
"Phenomenon of the Vortex" by Diane Durant — in the 2014 Texas Poetry Calendar, June overview
"Over Flat Creek Near Round Top, Texas" by Carolyn Tourney Florek — in the 2014 Texas Poetry Calendar, Week of May 18–24
"Ardor de Cuerpo" by Claudia D. Hernandez — in the 2014 Texas Poetry Calendar, Week of February 23–March 1
"Wings" by Ed Madden — in the 2014 Texas Poetry Calendar, December overview
"Near Year's End" by Susan Rooke —  in the 2014 Texas Poetry Calendar, week of December 28–January 3
The 2013 Texas Poetry Calendar:
Pushcart Nominations
Dante in Texas
After months of drought in Midland,
in the middle of a basin where the sea once tossed
(the sea now vanished, like everything becoming
something else), last night a spat of rain
fell against the plastic skylight in the kitchen—
a sound so long unheard, I thought it caused
by some other element—perhaps the crackle from
an unseen fire. All forms fluctuate through
other forms. Dante fled from Florence,
sentenced to burn alive, burning then in exile
with words. Last night's rain
could have been a burning language,
summoning the denizens of Midland
through the sphere of fire to stand
under a night sky suddenly blessed
by clouds returning, tears of exile ended.
Summoning us outside to shed our clothes
and shuck our lumpish bodies, veined and
varicose from brisket, beer and barbeque,
chicken-fried steak, more beer.
Though when I ran outside to hear
and feel the pattering music of the spheres,
the night was falling silent
and the streets were already dry.
Stan Crawford
La Posada
If I don the dress I will be Mary,
Great with child.
My want will be upon me;
Waddle will I a bit,
Swaying from porch to path,
My two selves denied entrance.
Holy and profane I will come to you,
Asking for succor, crying piteously as in olden days.
It is scripted that you remain indoors:
My face will hang in your porch light,
Your feet will approach the door,
You will see, through the peeping hole, my face,
And yet you will back away.
Cars will move down the street where it has rained,
Red and yellow lights reflecting;
They will go quietly like owls in evening,
Their tires invisible and silent in darkness.
My feet will touch the pavement; I will stay earthbound;
But pacing the roads, my body will become complete
Where the pains touch me here, and here:
It will be spirit knocking. I will imagine
Doors that do not close, a car slowing,
A welcoming voice that utters these syllables: Come in.
Cathy Downs
Winter
Winter's hard, brittle       branch broke as predicted.
Hunters knee-deep in snow       found the fox they had expected.
The usual wren tapped       at the rain barrel's mirror.
Old choruses drummed the air       up and down the streets.
Joints turned on their spits,       cups brimmed and sloshed.
The candle burned to a swirl of wax       like a robe heaped on the floor.
Sleepers remembered the dark       drawing itself over their heads.
They mumbled a few worn words       without any need for waking.
The North Star, rooftop ice,       rattle and gnaw of wind,
the burrowers nosing closer,       all these fell into place,
as did the blind dog barking,       the fire smothered in the grate,
the kitchen faucet left to drip,       blankets warmed against the stove.
The gelid sap, the unwound clock,       the mute owl keeping watch,
frost attending at the windows   —   these held out for something new.
The stillness near morning,       a nail pulling against a timber.
Monty Jones
Marlin, Texas
A horse idly munches grass
next to an abandoned parking lot
as I pass business after business
for lease. The road is crumbling
beneath me, but the Ebenezer Baptist Church
has a fresh coat of white paint.
It's a quiet Sunday in Central Texas,
worshippers nothing but blurred images
behind stained glass. They don't know
I've once again opted for tater tots
instead of God. I like to think
the fabled curative mineral waters
of this once-thriving town
have become the ice in my soda.
Smiling wide, I swear I feel better
as I head back to the highway.
The horse has moved on to some plants
bursting out of the rusted trunk
of an abandoned car. He seems content
to gorge himself all day,
like this soft light mirroring the clouds
in the windshields of the faithful.
They emerge slowly and carry their songs
home, strangely hungry.
Robert Wynne
Back to category top »     Back to page top »
The 2012 Texas Poetry Calendar Awards
Honorable Mention:"Halsell, Texas" by Del Cain; "Unfinished Ode" by Mary Margaret Carlisle; "Window Shopping" by Lyman Grant; "Redbud" by Monty Jones; "Hunting Party" by Anne McCrady.
Selected by Barbara Ras
Wimberley
On hot days you could find him
down by the river and up a tree,
enjoying its cool. If she stood on tiptoe,
arms stretched skyward and he reached
his hands through the branches,
he could lift her into the leafy treehouse
where they'd be hidden from view.
Too young to work, too old to play,
they'd stare at each other wordlessly
smiling like maniacs, eating green
grapes, a breeze lifting the damp hair
off their foreheads, arousing in them
a restlessness they didn't yet understand.
That boy is dead now. The tree, too.
Today, by the river, even the wind is still.
Erica Lehrer
Prayer for a Calf
The summer bubbled fire ants and burdock thorns
and glistened in waves dappled
by the shadows of buzzards.
We watched the stock tank inch down
and preferred to talk about box scores and neighbors' daughters
over the rainless sermons of weathermen.
We drove ten counties north for good hay,
something free of local briars and baling wire,
our old pickup hemorrhaging gasoline with every mile of road.
When the calf was born,
we managed to muster a feint of optimism,
at least in the comparative cool of morning
over bacon and good thick coffee.
But the mother we knew was over-equipped:
her teats swelled to the size of beer cans,
and the calf could find no way to nurse.
We had seen this with her before:
this cruel genetic curse.
She was a good cow,
but poorly suited for motherhood.
So as the days got on,
we closed our windows at night,
choosing silence over coolness.
Soon, we'd drive the fences and find the thirsty leather remains
and all our eyes would turn stone, like the pasture turned to caliche.
But for days, we offered silent prayers
for a calf to turn snake, unhinge its gentle jaws,
and take in the warm, wet sustenance
we hoped our world could offer.
J. Todd Hawkins
May
To walk out in the warm morning,
pick up the paper—the one you know
is full of wars, hunger, slayings—
still, to feel warm grass under bare feet,
see mockingbirds and wrens
that survived both last week's storm
and the cat next door. To see
that a rose and a blue cornflower
opened over night and that a vagrant
compost squash is blooming under cover
of the legitimate potato patch
is no small thing.
Beverly Voss
Back to category top »     Back to page top »
The 2011 Texas Poetry Calendar Awards
Honorable Mention: "Woman Claims Cheeto Resembles Jesus Hung on the Cross" by Stan Crawford; "A Cardinal" by Justin M. Robinson; "Odysseus at the Alamo" by Robert Wynne
Selected by Cyrus Cassells
Waiting Inland for the Hurricane
In the morning, gray and distant,
there will be coffee and the waves
of a child's laughter when the images
of inundation give way
to Saturday morning cartoons.
Then, they say, will come the wind, rain.
We will putter nervously, bearing
the uneasy silence of pretended calm
as we hang old sepia family pictures
in the stairway.
Those grim faces from behind decades
of storms and loss will stare
and judge their progeny's faith.
We will know the places they show
on the news. We will have strolled
their sunny seawalls and tasted their ice creams,
soft like rainbows must be.
We will know it is futile to tie this world together
with chain-link fences and swing sets.
Perhaps we will lose the young oak
we struggled all summer to free of fungus.
Perhaps we will lose more.
But now the house only sleeps
and the wind chime
only whispers the delicate peals
of painful anticipation.
J. Todd Hawkins
Saturday Market
A man should be planted horizontally,
toes up, eyes toward heaven
with a tombstone at his head
so he remembers when he doesn't wake
in the morning that his days on earth are done,
his work and land passed to the next generation
who, with luck, will labor as long and scratch
as much from the hardscrabble forty acres
as he did, and with more luck than he had save
enough to send the kids to college so they won't
have to race the morning sun to the fields
or sweat a bucket of Texas dew before crating
their produce and packing it into the bed
of a rusty pickup parked on the shady side
of the barn all gassed for the race to Austin
in the morning and a booth at the farmers'
market where slickers will sip iced tea
while they squeeze and pinch and sniff
and quibble about prices, each hard-won
bargain another line on the old man's face,
another scar on the back of his hands.
Dr. Charles A. Stone
Bacchus in Texas
Bacchus, a terra-cotta mask,
grimaces, gape-mouthed
on the garden wall.
He's an expatriate under live oaks,
although the sun sets as outrageously here
as it did behind black cypresses
and the raw ocher oven
where he was first fired.
Moss has worked its way into his frown,
has given a cast to one of his eyes,
has split the curl of his lip.
The children watch him warily,
especially when one girl is brave enough
to tease the daddy longlegs
quartered in his throat.
Then, their pulsing communion disturbed,
the critters whisker down his chin.
Bacchus and I rarely converse now
about the old days,
but at the Feast of the Assumption,
Ferragosto, we usually remember
how the heat of a Roman summer
would explode the cones of the umbrella pines,
graveling a dusty piazza with pignoli.
And, last year, when a spider webbed
a monocle over his bad eye,
I took his picture.
Christine Boldt
Back to category top »     Back to page top »
2010 Next Generation Indie Award, Karla K. Morton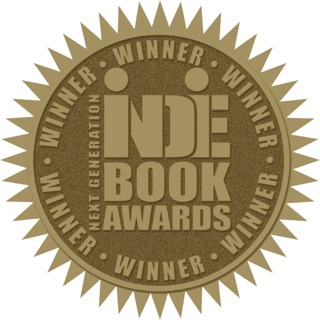 Redefining Beauty, Karla K. Morton's stunning book of poems from Dos Gatos Press, won the 2010 Next Generation Indie Award in the Women's Issues category.
Read more about Redefining Beauty »